There's nothing more refreshing on a hot summer day than sipping your favorite iced drink. Whether it's a divine Margarita, an energizing veg smoothie, or a fruity raspberry slushie.
And if your refrigerator doesn't crush your ice for you, there's no need to worry. You can get yourself a blender that will crush your ice.
But, a word of caution. Not every blender is up to the job of crushing ice. Unless you have a high-powered blender that's up to the challenge, putting ice cubes in your blender can dull the blade.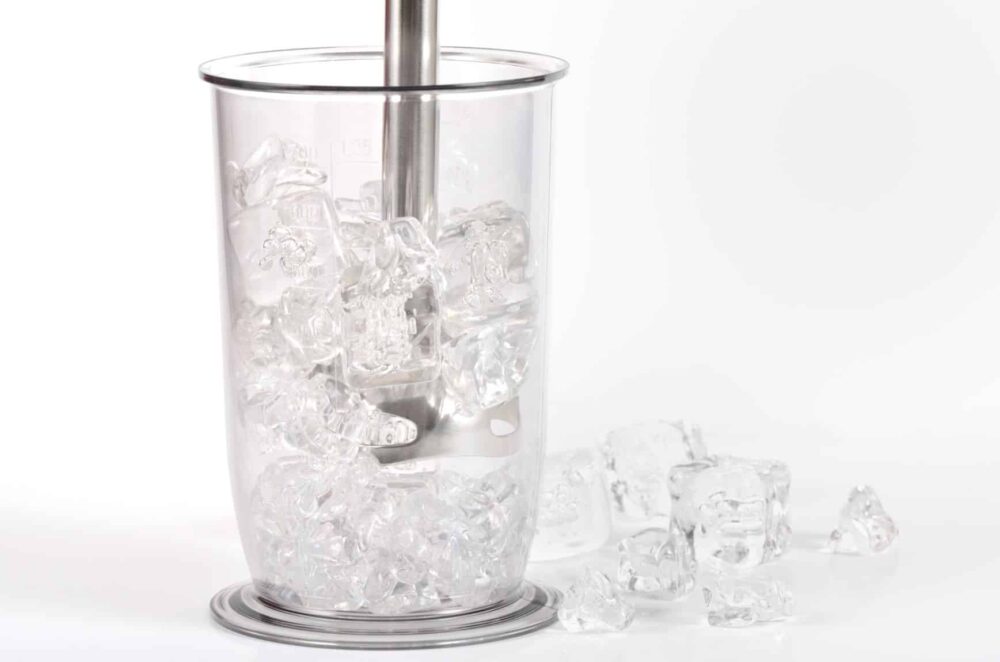 Pin
But, there's no need to worry. We've been checking out what's out on the market in blenders, and have found plenty that are up to the task of crushing ice. And, after much deliberation, we were able to handpick our top 5 favorites!
And the good news is that you don't have to break the bank to get a good blender for crushing ice – we only chose ones that cost under $300.
We're going to show you our review on those very shortly. And after that, we've also got a handy buying guide for you that walks you through everything you might want to think about before you buy your blender for crushing ice.
Then, we're going to top that off with a section where we answer some of your most frequently asked questions on the subject.
So, without further ado…
Best Blenders For Crushing Ice
Pin
Now, this is a blender that is specifically designed for your cold drinks. It has just 3 built-in recipe programs, ice crush, icy drinks, and smoothie.
What makes it such a good blender for crushing ice is in part down to the powerful motor. It's 1.5 horsepower, which is about 1,100 watts. Just perfect for blasting through ice.
The other factor is the patented stainless steel blade system. The blades and angled in such a way as to pull the contents onto the blade, so you get a much more even result.
But what we really love about is its intelli-speed motor control. The blender senses the contents of the jar, and sets and maintains the necessary speed to power through all the various ingredients included.
And you don't have to stick with the just the pre-programmed settings. There's also a dial on the front of the machine, which you turn to adjust through 5 variable speeds. And there's a handy pulse option too.
We also love the soft-start feature, whereby the motor starts off at a slightly slower speed, in order to pull the food onto the blade, before increasing to the required level.
It has a capacity of 56 ounces, which is large enough for several individual servings. There's also a self-cleaning cycle option – very handy.
It's available in some really nice colors too, just pick the one which would look best in your kitchen. You can also opt to buy several matching accessories.
And if the price seems a little steep to you, you could always look out for a renewed version.
Pros:
Powerful 1100 watt motor

Patented blade system

Has a soft-start feature

Large 56 ounce capacity

Intelli-speed motor control

Really nice color options
Cons:
The blender jar is made of plastic rather than glass

Several customers have complained about the noise
KitchenAid K400 Variable Speed Blender - KSB4027
Blending is a breeze with the 3 part blending system, made of the blender's vortex-creating ribbed jar design, unique asymmetric blade, and the smarts behind the Intelli-Speed Motor Control, which automatically senses contents and maintains the optimal speed for a better blend.
Quickly blend and take on notoriously tough ingredients like kale and almonds with ease, so you quickly turn whole foods into smoothies and enjoy.
Self-clean cycle for easy clean-up - just add water and a drop of soap to the jar and run the self-clean cycle for quick, easy clean-up.
Easily create a range of textures with the variable speed dial, from smooth to chunky, or select from 3 preset recipe programs: Ice Crush, Icy Drink, or Smoothie.
Soft Start feature starts at the right speed - the motor automatically starts at a slower speed to pull ingredients into the blade, then quickly increases to the selected speed to avoid splatter.
Pin
It's not very often you see a professional countertop blender at a price like this – even if you don't manage to catch one of Amazon's occasional offers!
It has a powerful motor, coming in at a whopping 1000 watts – just what you need for crushing ice. You can turn the ice into snow – imagine that in your daiquiri!
And it couldn't be any simpler to use. There are just 4 buttons to be concerned about, the power on button, low, medium, and high setting buttons, and an additional button for a pulsing effect.
You simply hold down the button for the setting you want. This high setting should be used for ice, and you will get snow in just seconds. The pulsing action is great too it allows chunkier items to reach the blades at the bottom of the jar.
We also love the size of the jar – at 72 ounces, you can make large batches of your favorite slushies, frozen drinks, or smoothies. The jar is entirely dishwasher safe, and the motor base is easily cleaned with a damp cloth. And it comes with a free recipe book – how handy is that.
It's a huge bestseller with online retailers and comes highly recommended.
Pros:
Excellent value for money

Really easy & intuitive to use

Crushes ice to snow in seconds

Large capacity, dishwasher safe jar
Cons:
Some customers have found the cord to be a little short
Pin
Ninja has done it again with this beauty!
This blender has a very powerful motor, 1,400 watts, no less. Able to speed through and crush your ice cubes with no problem at all. And of course, it will crush through other frozen items with ease.
It uses Auto-IQ, which is basically 12 pre-programmed automated patterns of pulsing and pausing for 12 different types of results, ranging from the extraction of nutrients, to making ice cream, to making smooth soups, to making your favorite cocktails.
And if you ever fancied a change from ice cold drinks and wanted to go for something hotter, that's no problem either. There's an 800-watt heating element included that will heat up your concoctions whenever you wish. Using heat can really help to infuse flavors.
We also love the accompanying jar. It has a capacity of 64 ounces, which is quite big, enough to serve 2 or 3 drinks, possibly more if you use small glasses. But better yet, it's non-stick, and as such makes it much easier to clean than regular glass jars.
Please don't be put off by how busy the touch panel looks. The user manual explains everything, and once you're familiar with the buttons, you'll know exactly what you're doing with it.
Pros:
Powerful 1400 watt motor

Has 12 preset programs

Also has a heating element

Large, non-stick jar
Cons:
The touch panel looks a little over-detailed which is down to putting French labels in alongside English ones
Ninja HB152 Foodi Heat-iQ Blender, 64 oz, Black
Ninja Foodi Blender with Heat-iQ
64 oz. glass pitcher (56 oz. max cold liquid capacity)
1400-peak-watt motor and high speed blade for ice crushing
800-watt heating element for infused drinks and soups
12 Auto-iQ Programs
No products found.
As the title suggests, this is a professional blender. It has a very powerful 1450 watt motor, which is perfect for blitzing your ice cubes into bits.
And you don't need to worry about the ice crushing dulling the blades – this beauty uses 3 layers of 8 aircraft grade titanium blades that can blast through anything.
It's very easy and intuitive to use. Ice crushing is one of the four preset programs, alongside smoothie, frozen yogurt, and soup. So you get an array of hot and cold options.
Then you can select from 8-speed settings. Speeds 5 through to 8 are best for crushing ice and nuts, while the lower speeds are great for making smoothies or purees out of fruit and veg.
The strength and power of this machine mean that it can really break through the cells of your fruit and veg to deliver all those important nutrients and vitamins you're looking for.
We love the self-cleaning function. You just drop a little detergent and warm water in there and it will clean itself in about 60 seconds.
It has what we consider to be a large capacity, at 2 liters, which is great when you have several drinks to pour. And it comes with a recipe book which is great for any novice blenders.
Amazon occasionally has deals on this product – certainly worth a look. And there are some great maintenance tips on the Amazon page too.
Pros:
Very powerful motor

Air-craft grade titanium blades

Large 2-liter capacity

Self-cleaning function

Very easy to use
Cons:
Some customers find it noisy
No products found.
Pin
This blender has proved remarkably popular with customers. After about 6,000 individual customer ratings on Amazon, the average rating still comes in at 4 and a half stars out of 5.
What makes it so good for crushing ice is its patented Ice Sabre blades, made for the very purpose of crushing ice.
And it has a sufficiently powerful motor for the job too, at 700 watts. In fact, that's 100 more watts than what we recommend for crushing ice.
It's super easy to use. All you have to do is press the button for the function you want. You can chop, mix, puree, whip, and of course crush ice. The buttons are on a sliding scale of low to high pulse, so you can see which option to change to if you want to make any adjustments.
Its stand-out feature has to be the wave action, which continuously pulls your food or drink mixture down into the blades. It's so convenient – you don't have to stop halfway through to push foods down yourself.
It's built to last – long enough to make a whopping 8,000 drinks in fact. The glass jar has been thermal-shock tested, and we know that it can go from crushing ice at one moment to making hot soups the next without causing any damage to the glass jar.
And at this price, it's fantastic value for money. Much more affordable than Vitamix! Plus it comes with a 3-year warranty, which is so reassuring.
Pros:
Remarkably popular

Patented Ice Sabre blades

Powerful 700-watt motor

Very easy & intuitive to use

Wave action pulls food down

Thermal-shock tested

Great value for money
Cons:
Designed for home use rather than professional use

Not every customer is fond of the pouring spout
Hamilton Beach Wave Crusher Blender For Shakes and Smoothies With 40 Oz Glass Jar and 14 Functions, Ice Sabre Blades & 700 Watts for Consistently Smooth Results, Black & Stainless Steel (54220)
Crushes ice with ease: Patented ice sabre blades combined with a powerful 700 watt peak power motor crushes contents quickly for smooth, icy drinks.
Smooth results: ordinary blenders spin contents around the walls of the jar, which can leave whole chunks untouched by the blades, but our Patented wave action system is designed to continually Force the mixture down into the blades for consistently smooth results without stirring.
Heat resistant glass jar: the 40 ounce glass jar is thermal shock tested to withstand extreme temperature changes. It is perfect for parties or making a pitcher of shakes and smoothies that the whole family can enjoy.
Mix, puree, ice crush and more with drip-free serving: 14 blending functions handles a variety of blending needs. Plus enjoy no-mess serving with an easy-pour spout designed to eliminate drips.
Easy to clean: the lid, blades and glass jar are dishwasher safe and the base comes with storage for the cord.
Buying Guide
As promised, here's our buying guide!
Why it needs to be a countertop blender
If you want your blender to crush ice, you will have to invest in a countertop blender, rather than a handheld immersion blender. Immersion blenders are just not designed to crush ice. They don't have a high enough wattage for their motor. And moreover, the blades aren't big or sturdy enough.
Trying to crush ice with it will only dull the blades and overwork the motor. And the best you'll get from it would be a tablespoon of crushed ice at the very most.
Power / Wattage
The blender's wattage is the most important spec to look at in a blender for crushing ice. We would recommend that you go for a countertop blender with a motor that can work at least 600 watts, preferably more.
A blender of 300 watts could possibly crush a little ice but we do not recommend it. You won't get much ice and you risk dulling the blade. All the blenders that made our shortlist all have a wattage of at least 700 watts, usually more.
Easy to Use
Every new gadget you take home takes some getting used to if you want to use it to its full potential. But only blenders that are relatively easy to get to grips with and use made our shortlist of our top 5 picks.
Pulsing Function
In addition to their blending function, many blenders these days also have a pulsing function. This feature can be very effective at moving your mixtures around so that the larger items at the top of the jar can have a better chance at reaching the blades at the bottom.
Additional Functions
A good blender can do all sorts of things, so why stop at crushing ice? You can make soup, you can make ice cream, you can puree baby food. Why not make the most of what you buy.
Capacity
If you want to make a lot of crushed ice, then you will need a sufficiently big jar, especially if the ice cubes you are crushing are quite big and bulky.
Take into consideration how many people you're blending for. If you want to serve up a 2-serving smoothie you will need enough capacity for 2 cups of fruit. That's 16 ounces.
Value for Money
You need a powerful blender to crush ice, which is why blenders that can crush ice tend to cost a little bit more money than a more generic blender.
But that said, only affordable blenders made our top 5 picks, costing no more than $300 at the very most.
Frequently Asked Questions
Can I use a blender to crush ice?
You certainly can! But you have to get a sufficiently powerful blender in order to do so. About 600 watts will be enough.
How do I know if my blender can crush ice?
This depends on the blender's wattage. A blender of 300 watts could possibly crush ice but is not recommended and may dull the blade.
A blender with a motor of 600 watts or more, on the other hand, will easily provide enough power and speed to crush as much ice as you like.
Can a 500 watt blender crush ice?
We don't recommend using a 500 watt blender to crush ice. That's not to say that it can't be done in a pinch, but you'd be much better off using a more suitable blender of at least 600 watts or more.
Can you crush ice with an immersion blender?
Unfortunately, it's not possible to crush ice with a handheld immersion blender. As we mentioned earlier, it's just not designed for the purpose. The blades aren't big or sturdy enough.
Trying to crush ice with it will only dull the blades and overwork the motor. And the best you'll get from it would be a tablespoon of crushed ice at the very most.
How do you blend ice smoothly?
If you want to get your crushed ice looking and feeling like snow, then we recommend our number 2 pick, the Ninja Professional 72 Oz Countertop Blender.
Why does my blender not crush ice?
There could be two reasons for this. The first reason is having an insufficient motor power, and the second reason is that the blades of your blender have started to dull.
Neither of these, unfortunately, is fixable, and the only way around the problem is to buy yourself a new blender that's up to the job.
Does the Ninja crush ice?
There are several different blenders in the Ninja brand. The two that we showed you in our top 5 picks are both great at crushing ice.
They are our number 2 pick, the Ninja Professional 72 Oz Countertop Blender, and our number 3 pick, the Ninja Foodi Blender.
Do you put ice in a smoothie?
If you want to sure, but you don't have to.
Why is my blended margarita foamy?
Blending a margarita in a blender introduces tiny air bubbles into the mixture, that give a margarita its cloudy, and frothy appearance.
If you want to prevent your blended drinks from being foamy, you can frozen fruits rather than fresh. Or you can use fruits that have soluble fibers, such as bananas, peaches, pears, or mangoes.