When I was younger, my mom would make us donuts as a treat. She didn't make them often, but when she did, we would all do just about anything to get one hot out of the fryer. Generally, they were dipped in a cinnamon-sugar mix or powdered sugar, but once in a while, she would tempt us with a chocolate glazed cake donut. Man, they were delicious!
As I get older, this is a trend that I want to continue with my own kids as a special treat some Sunday mornings. The part I don't like? My mom's donuts were fried; however, with donut pans readily available for the oven these days, that is a little problem that is easily taken care of. That has been done with these baked carrot cake donuts, so you can feel good serving them as a treat for your family a little more than once a year!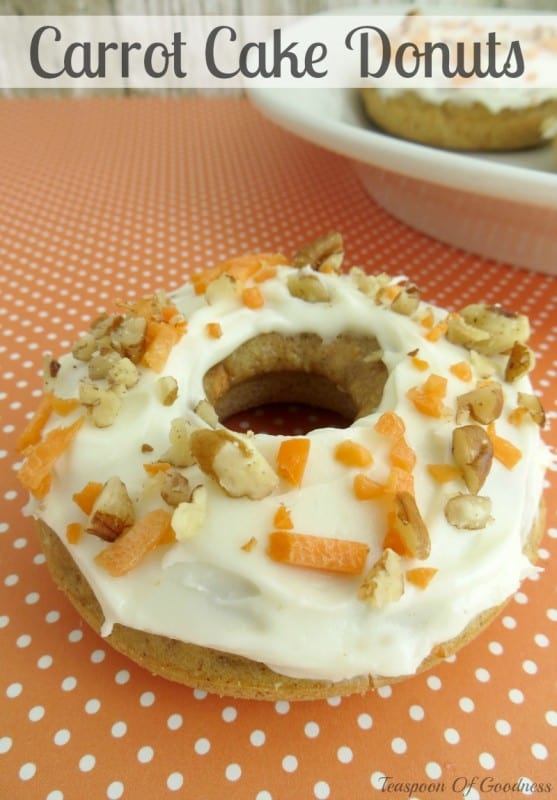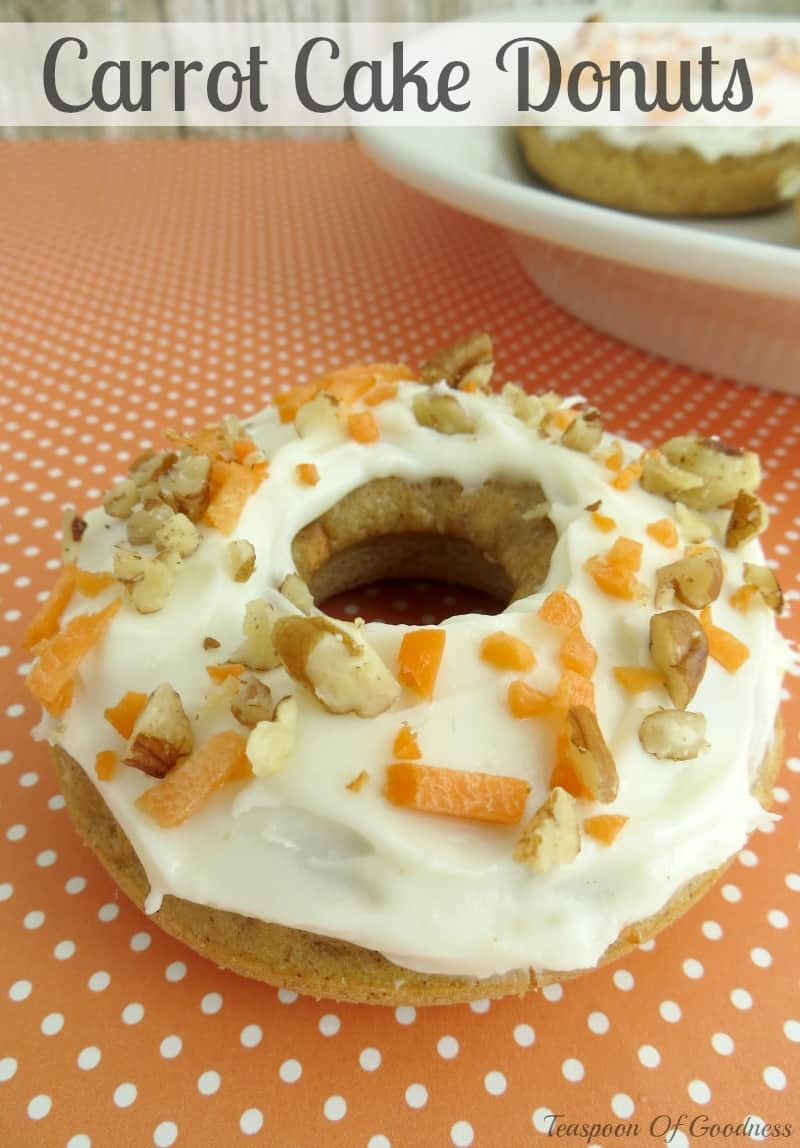 Pin
The cake donut recipe below is pretty generic (minus the carrots) and can be easily switched up with different frostings or shook in a Ziploc bag with a cinnamon-sugar mixture while hot. It's very tempting to sink your teeth into these donuts while they are hot, but you need to give them a couple of minutes to cool so that the frosting will stick to these carrot cake donuts. After all, what is carrot cake without a creamy and delicious cream cheese frosting?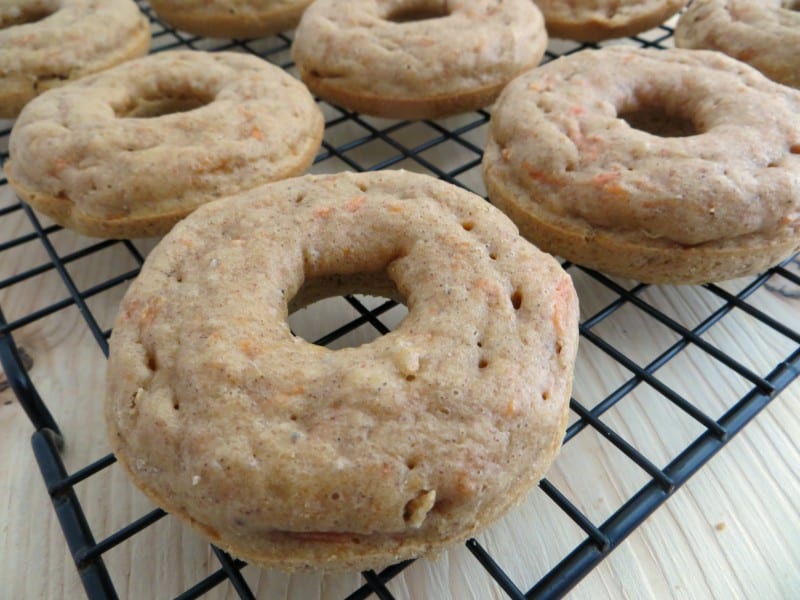 Pin
Baked Carrot Cake Donut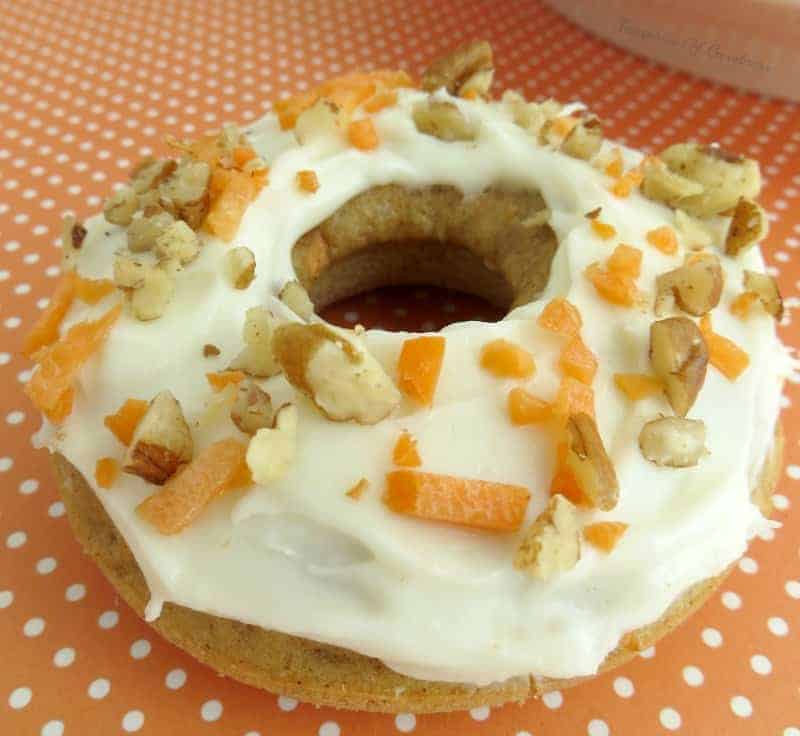 Baked Carrot Cake Donut
Ingredients
Donuts
2 cups all-purpose flour
2/3 cup brown sugar
1 tablespoon baking powder
¼ teaspoon salt
1 ½ teaspoon cinnamon
½ teaspoon nutmeg
¼ teaspoon allspice
5 tablespoons unsalted butter, melted and cooled
2 eggs
1 cup milk
2 teaspoons pure vanilla extract
1 ½ cups carrots, shredded
Cream Cheese Frosting
8 oz. cream cheese, softened
4 tablespoons unsalted butter, at room temperature
1 cup confectioner's sugar
1 teaspoon pure vanilla extract
Optional: shredded carrots and chopped nuts for garnish
Instructions
Preheat the oven to 350 degrees F. Generously grease a donut pan and set aside until needed.
In a large bowl, whisk together the flour, brown sugar, baking powder, salt, cinnamon, nutmeg, and allspice.
In a small bowl, whisk together the melted butter, eggs, milk, and vanilla. Add this mixture to the dry ingredients and stir until fully combined. Fold in the shredded carrots.
Transfer the batter to a zip lock bag and cut off a tip. Pipe the batter into each donut cavity, filling 2/3 of the way up.
Bake the donuts for 8-10 minutes. Allow the donuts to cool in the pan for 2 minutes and then transfer to a cooling rack to completely cool.
To make the cream cheese frosting, mix the cream cheese and butter in the bowl of a stand up mixer fitted with the paddle attachment until light and fluffy (about 5 minutes). Add the confectioner's sugar and mix (gradually increasing speed) until the sugar is fully incorporated.
Add the vanilla and whisk until the frosting is light and fluffy, about 3 minutes.
Frost the top of the donuts, and garnish with carrots and chopped nuts.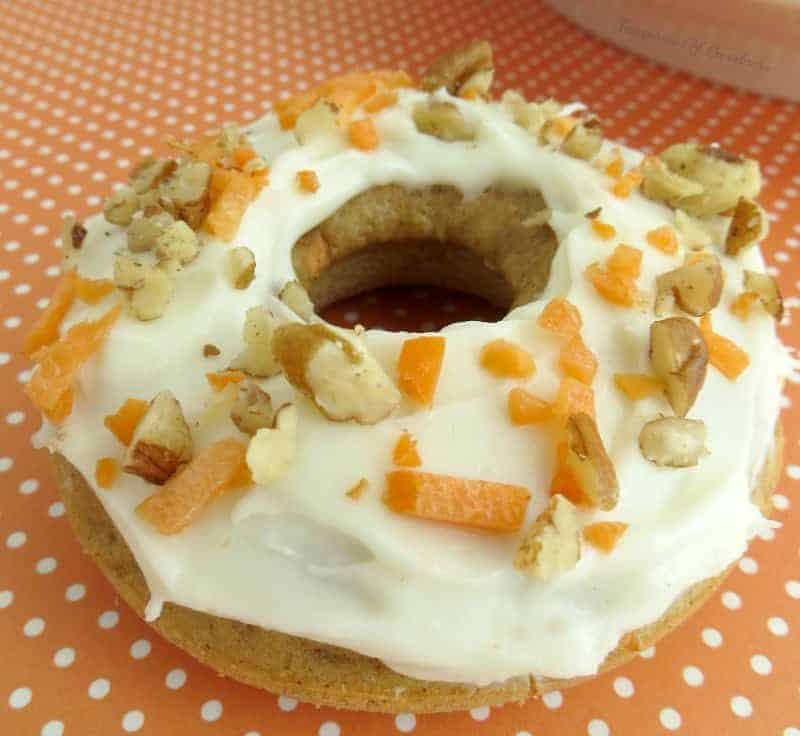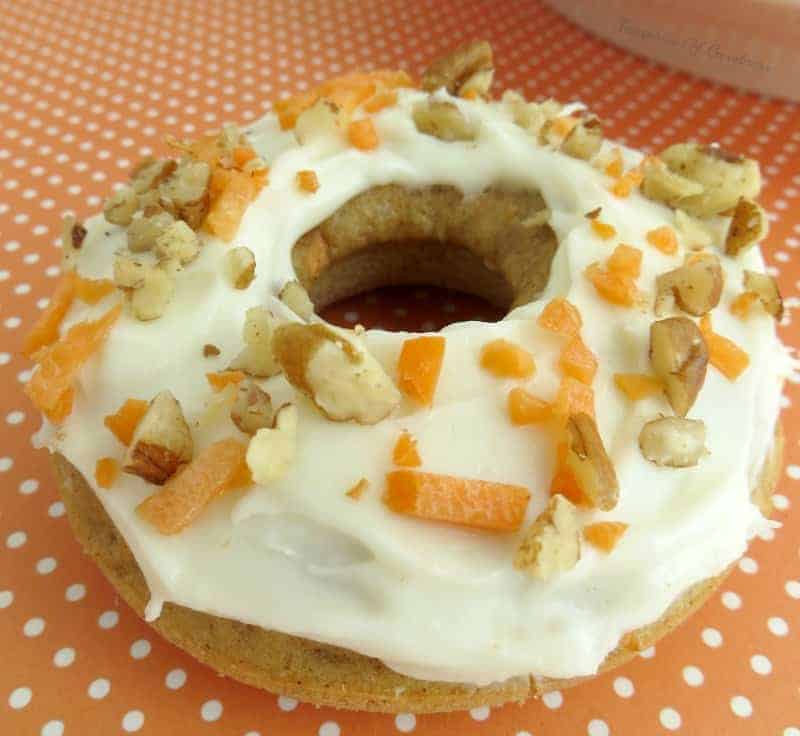 Pin
What flavor of cake donut is your favorite? Do you prefer them plain, or the fancier the better?