These Apple Cinnamon Crescent Rolls are a perfect semi-homemade treat that includes a delicious homemade caramel sauce. Not only do they make use of the apples that are so present during the fall months, but they are a decadent dish that serves beautifully to guests.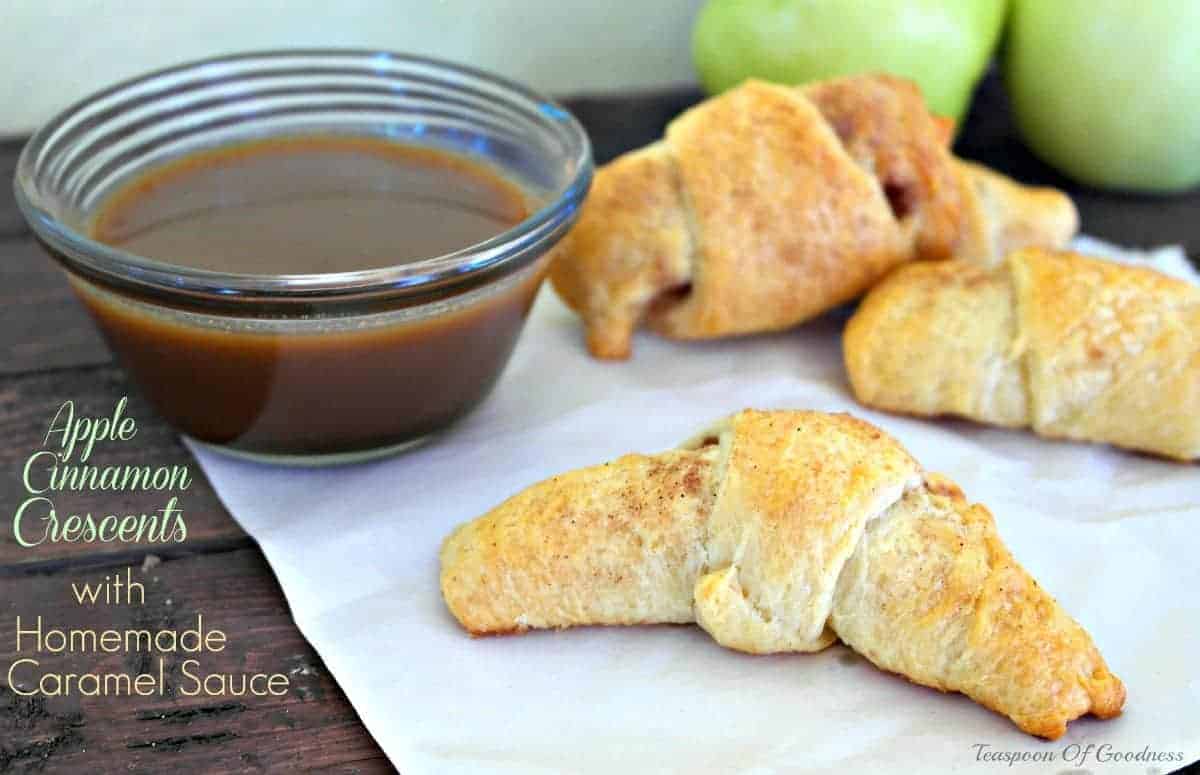 Pin
Using a ready-made crescent roll dough makes this a great semi-homemade treat that is fast to prepare. The homemade caramel sauce is much easier to create than you think and, of course, is great to drizzle over the top of this treat. Add a dollop of whipped cream or ice cream and enjoy a sweet treat that pays homage to the classic apple pie.
This is a fun recipe to make with the help of your kids. With the need for the apple to be cored and sliced, kids will scramble to use an apple corer and help you with this.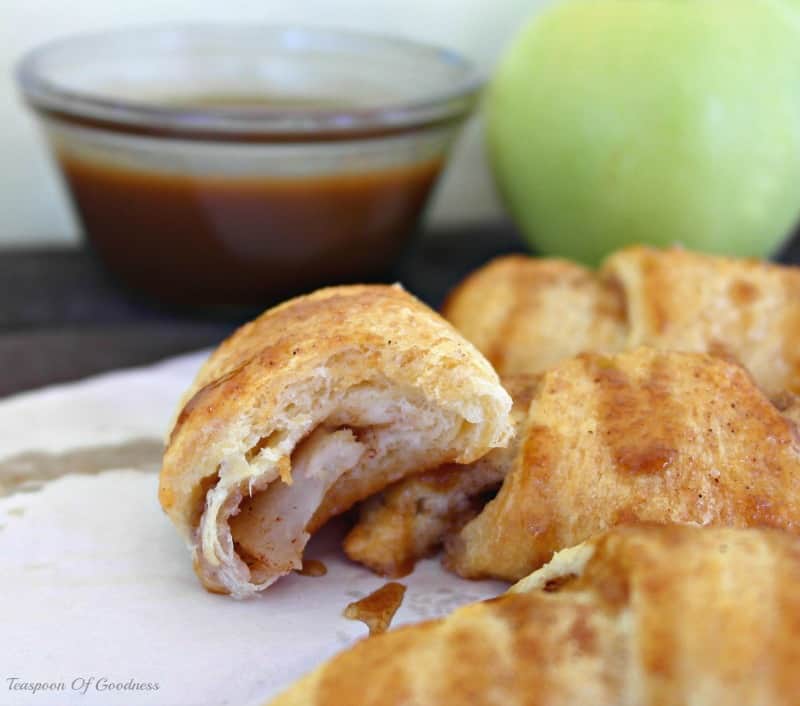 Pin
Making the homemade caramel sauce is the hardest part of this recipe, and it is still very easy to manage. Pay attention and stir consistently to create a rich, creamy, and sweet sauce that goes perfectly with this dessert as well as many others.
This apple cinnamon crescent rolls recipe can easily be altered to add chopped nuts, pears, or even peaches instead of apples if you prefer. It quickly becomes a simple and easy dessert that you can whip up for an evening meal, a dinner party, or your next potluck event. Top with some whipped cream or ice cream and a drizzle of the delicious homemade caramel sauce or a sprinkle of cinnamon.
Apple Cinnamon Crescent Rolls With Caramel Sauce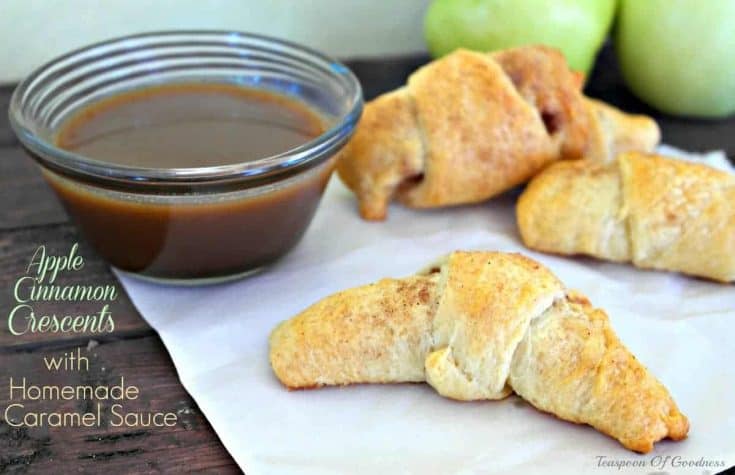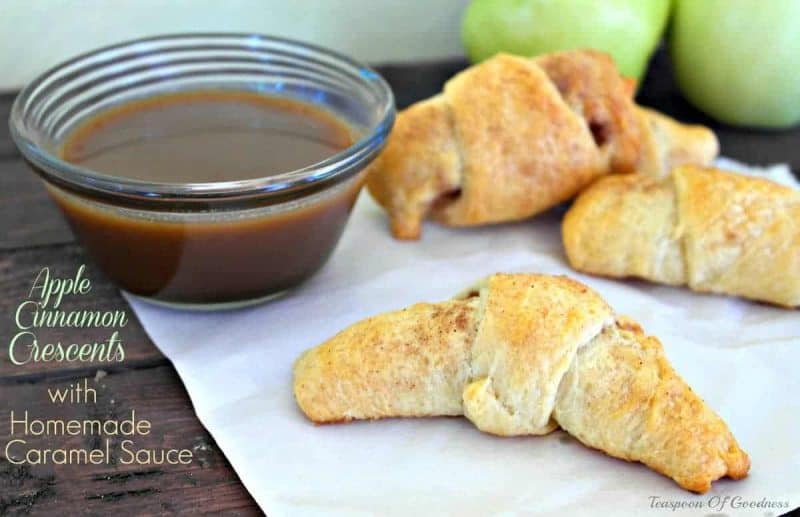 Apple Cinnamon Crescent Rolls With Caramel Sauce
Prep Time: 20 minutes

Cook Time: 20 minutes

Total Time: 40 minutes
Ingredients
For The Apple Cinnamon Crescent Rolls
1 package of refrigerator crescent roll dough
1 large apple, we used Ginger Gold
2 tablespoons granulated sugar
2 teaspoons cinnamon, this is the ratio I like, you can adjust for personal taste
1 tablespoon melted butter
For the caramel sauce
½ cup brown sugar
½ cup granulated sugar
3 tablespoons butter
½ cup cream
Instructions
For The Apple Cinnamon Crescent Rolls
Pre heat the oven according to the package instructions for the crescent rolls.
Peel, core and slice the apple. We used an "apple peeler, corer, slicer" If you don't have one, get one! It is one of the best inventions ever.
Mix the cinnamon and sugar together in a small ramekin or bowl.
Coat each slice of apple in the cinnamon sugar mixture.
Unroll the crescent dough and place each triangle on a cookie sheet.
Place one apple slice on the widest part of the dough, roll downwards to the point and turn in the edges
Repeat for each triangle of dough
Brush with melted butter, sprinkle more cinnamon sugar
Bake according to package directions for the crescents
NOTE* We prefer to have more apple flavor, so next time I think I will stack 2 slices as long as the dough doesn't break. Give it a try if you would like!
For the Caramel Sauce
In a medium sauce pan, melt the butter ( make sure you do this first, do not add all the ingredients together, it does not melt down smoothly!)
Once the butter is melted, whisk in the sugar and milk.
Continue whisking briskly while bringing mixture to a boil.
Let boil until sauce starts to thicken, reduce to low and simmer for about 10 minutes, stir occasionally.
Sauce will thicken more as it cools.
Serve caramel sauce over hot apple cinnamon crescent rolls.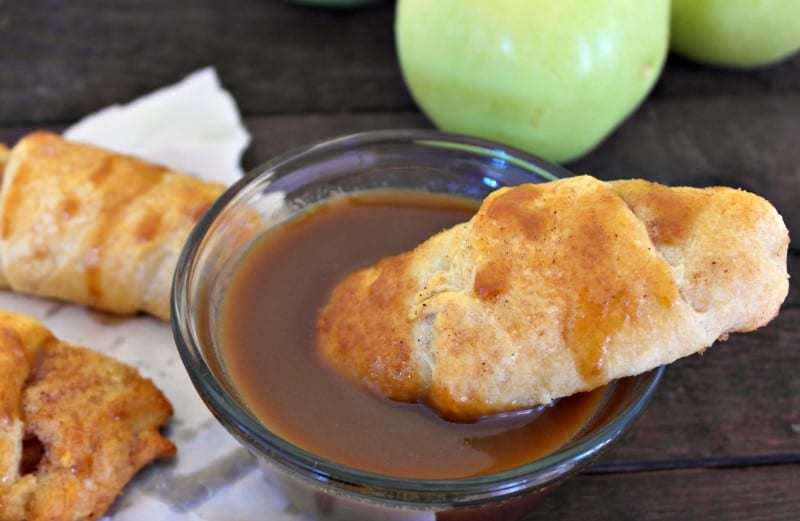 Pin
Visit Teaspoon Of Goodness's profile on Pinterest.