Fall is in the air, and cooler nighttime temps are approaching. This time of year brings out plenty of pumpkin recipes, and I am thrilled! Pumpkin tops the list, next to lemon, for one of my favorite flavors, and I plan to share plenty of pumpkin recipes with you this fall. I'm going to start with these Pumpkin Waffles With Oats because school is starting, and I've been working on making sure the freezer is stocked with easy-to-grab school lunch ideas.
Sunday mornings are often pancake mornings in our house, but I like to mix up the rest of the week with a variety of meals. I recently acquired a waffle maker, and it's been wonderful to have frozen waffles in the freezer for these mornings. Homemade breakfast without all the work!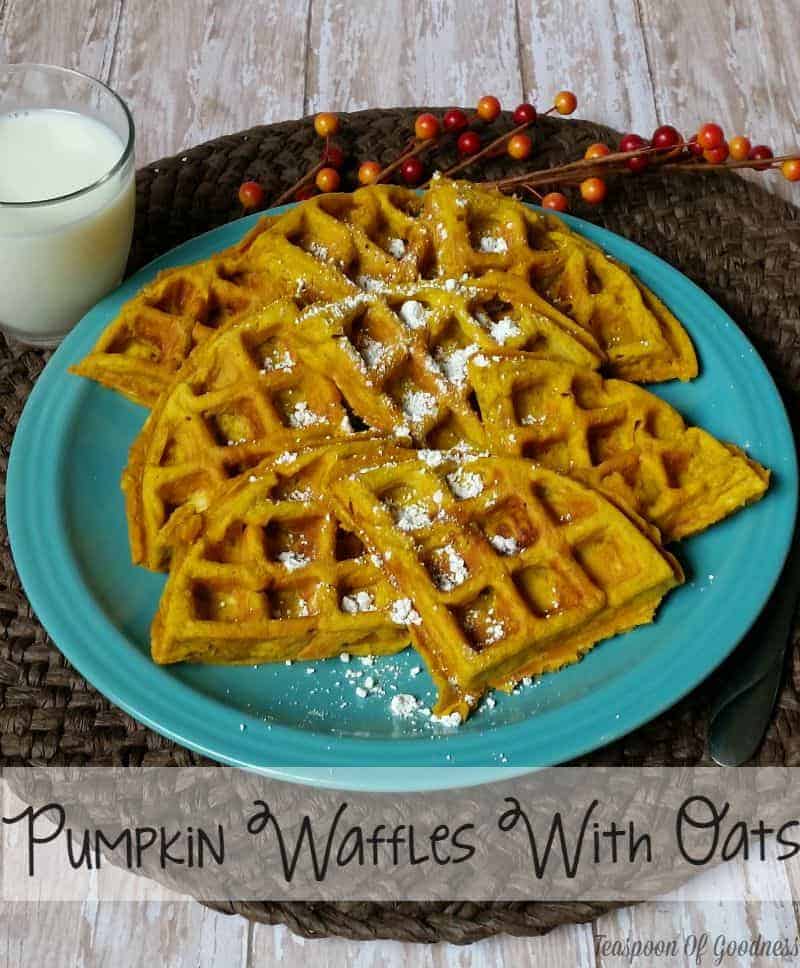 Pin
As I have said, I've been working hard on getting the freezer stocked with plenty of freezer meals that can be grabbed and packed quickly for school lunches. A couple of sections of these pumpkin waffles with oats paired with sausage balls, syrup, and fruit will make for a great school lunch for the boys!
To Freeze & Pack Frozen Pumpkin Waffles With Oats
To freeze waffles individually, I cook them as usual and allow them to cool completely on a wire rack so that air can circulate. Once cooled completely, I freeze in individual layers on a cookie sheet overnight or at least 6 hours. Once the waffles are frozen solid, I toss them into a well-labeled Ziploc bag and can easily grab out as many as needed. To reheat frozen waffles, I microwave them for a minute, or if I need several at one time, I will reheat them in a 350-degree oven for 8 – 10 minutes. This will also help keep them crisp.
To pack for school lunches, I will grab a couple of sections out in the morning before school and let them thaw slowly throughout the day. The boys have a microwave at school, so they have the option to reheat the waffles if they want, or they can eat them cold.
Pumpkin Waffles With Oats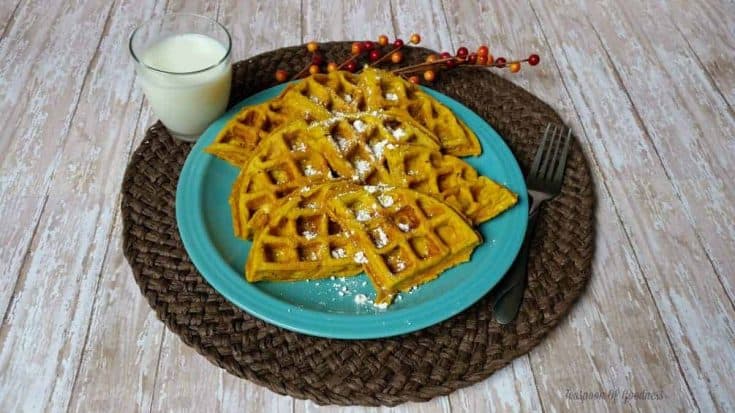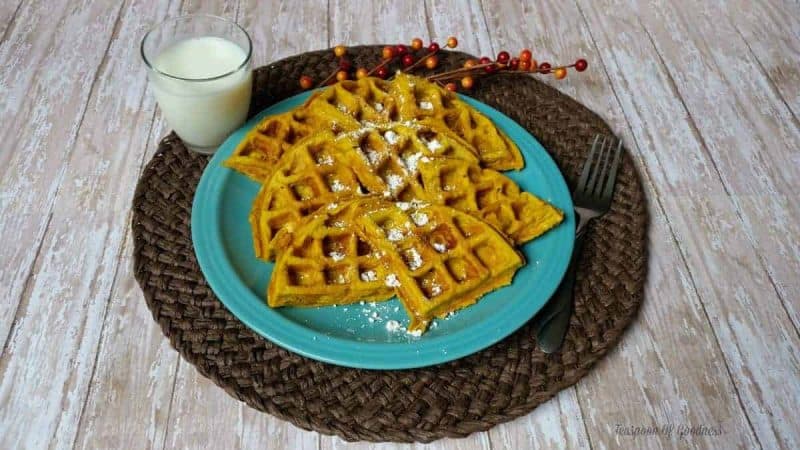 Pumpkin Waffles With Oats
Bring the family together for breakfast with these Pumpkin Waffles With Oats. Not only are these a great Sunday morning breakfast but a school lunch meal as well!
Ingredients
1 1/2 c flour
2/3 c oats
1 t baking powder
1/4 c sugar
1 tsp cinnamon
1 tsp salt
1/2 c canned pumpkin
2 eggs
1 / 4 c vegetable oil
1 3/4 c almond milk or milk
Powdered sugar or any other desired toppings
Instructions
Preheat waffle iron.
In a large mixing bowl, stir together the dry ingredients.
Add eggs, pumpkin, vegetable oil, milk and mix until combined.
Coat waffle iron with cooking spray and pour approximately 1 cup of batter and cook according to the iron's specifications.
How do you enjoy your waffles? Are they a Sunday morning breakfast treat, or will you join me in freezing them for a fun lunch treat item?
Visit Teaspoon Of Goodness's profile on Pinterest.