When Coulter was less than a year old, I had my first taste of PF Chang's lettuce wraps, and let me tell you I was hooked! I don't even think I had a bite of my meal that we had ordered because I stuffed myself with the appetizer of lettuce wraps we had ordered.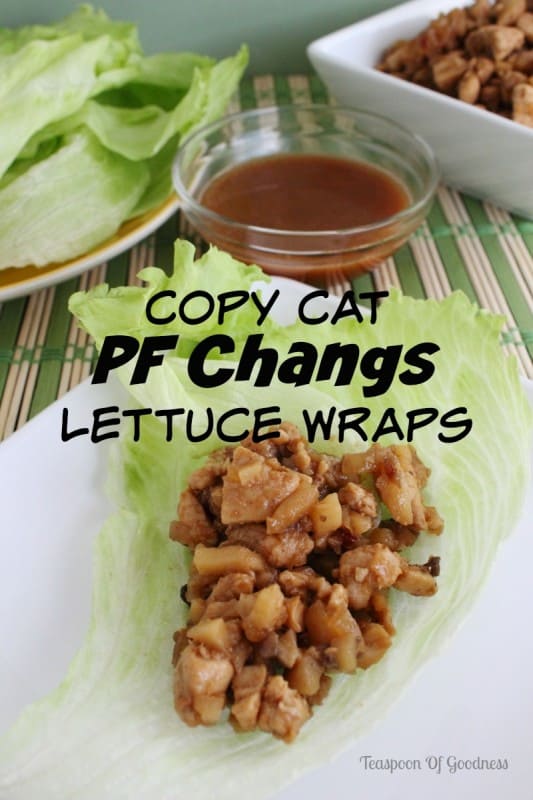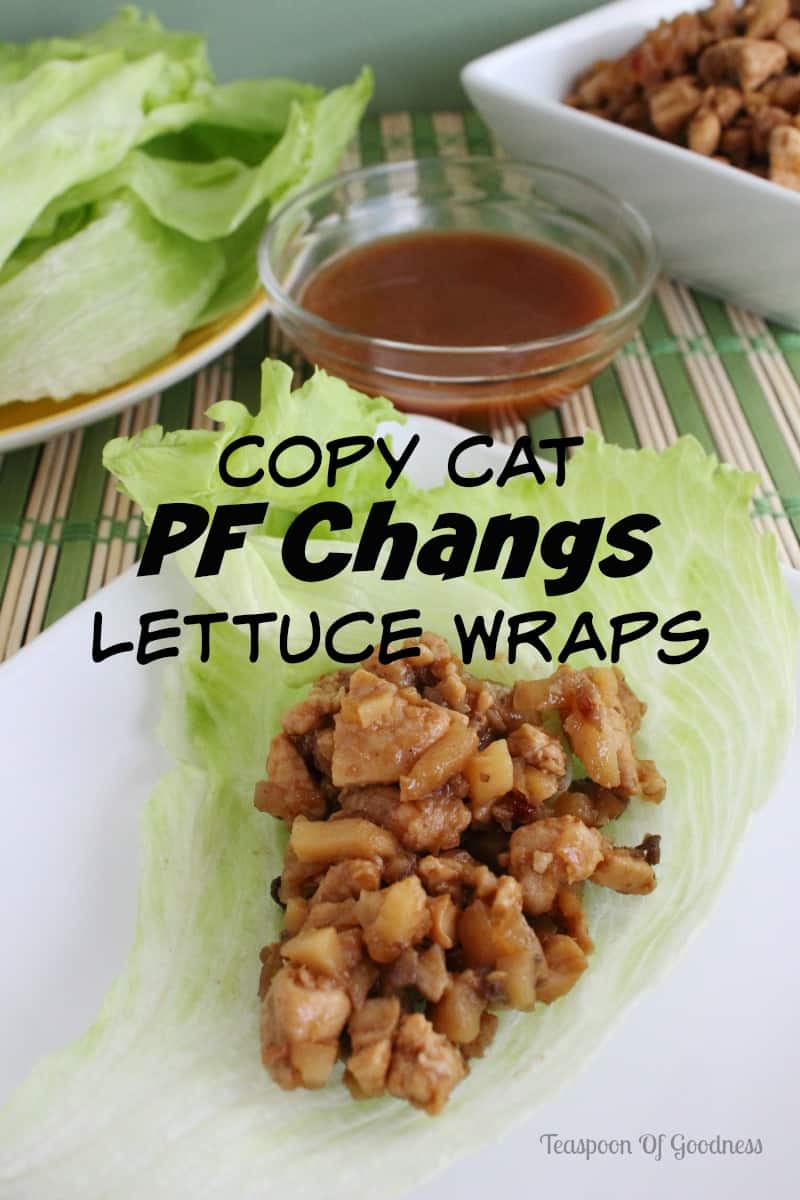 Pin
The fact that I live 200+ miles from a PF Chang's means I had to figure out a way to make these amazing lettuce wraps from home. I think I have succeeded pretty well with these Copycat PF Chang's Lettuce Wraps. They may not be spot on, but close enough for this rural area girl to be in lettuce wrap heaven! Lettuce wraps are good on their own but there is just something about that dipping sauce that PF Chang's lettuce wraps come with. It puts this appetizer or dinner over the top!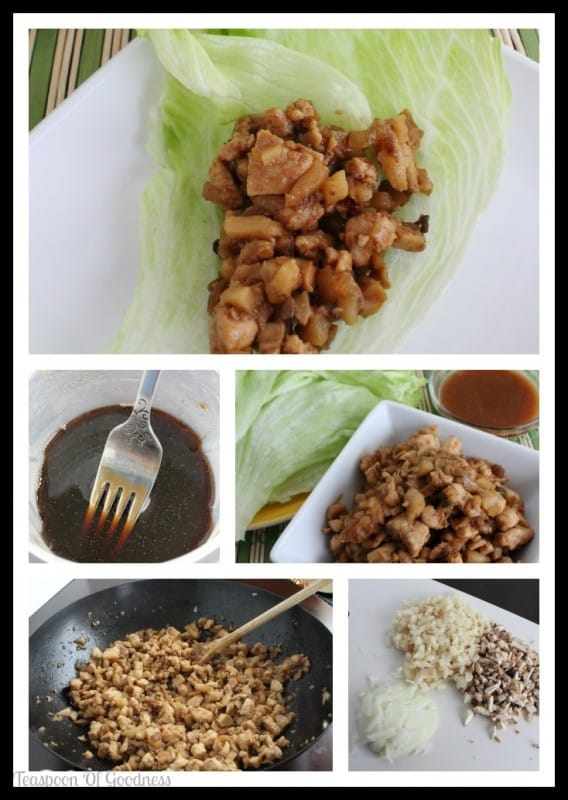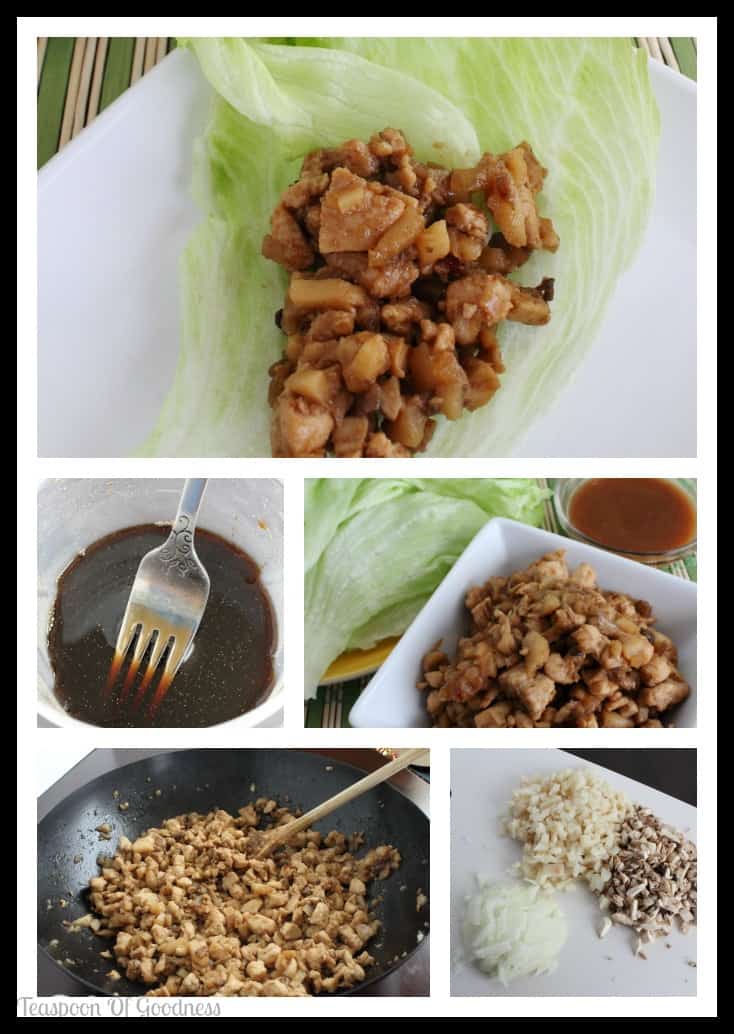 Pin
Copycat PF Changs Lettuce Wraps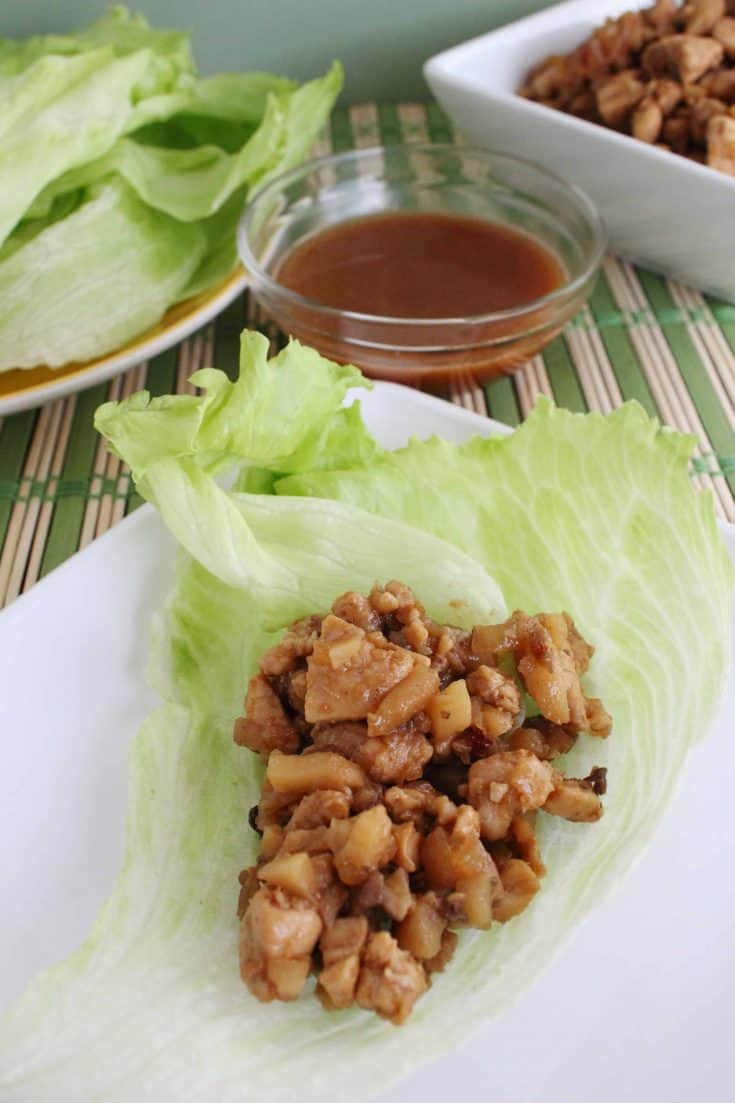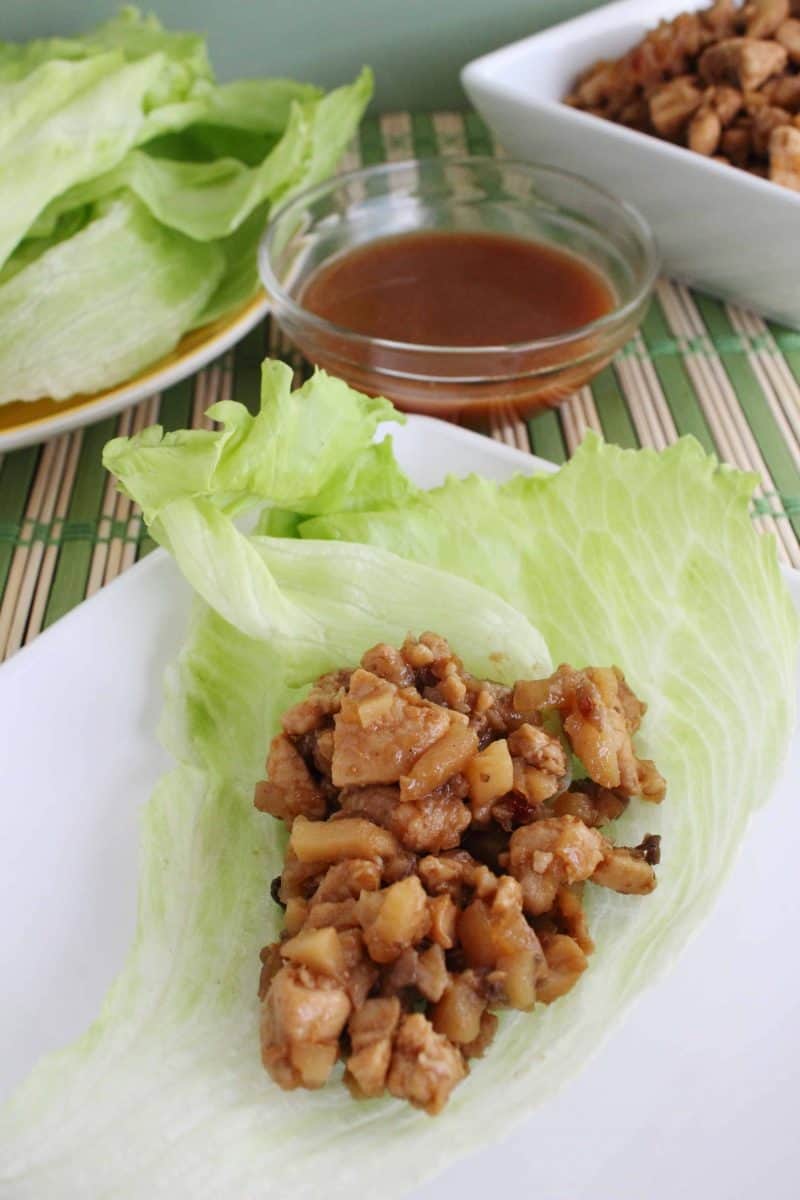 Copy Cat PF Changs Lettuce Wraps
Ingredients
Dipping Sauce
¼ Sugar
¼ Cup Hot Water
¼ teas. Ground Mustard
3 Tbsp. Soy Sauce
4 teas. Rice vinegar
2 Tbsp. Ketchup
½ Lemon's juice
1 teas. Sesame Oil
Chicken
3 Tbsp. Soy Sauce
3 Tbsp. Brown Sugar
½ teas. Ginger
1 teas. Rice Vinegar
1 ½ lbs. Chicken breasts, ¼ inch dice
4 Cloves Garlic
2 Tbsp. Vegetable Oil
1 Tbsp. Sesame Oil
½ Cup Yellow Onion, finely chopped
8 oz. Sliced Water Chestnuts, finely chopped
1 Cup Mushrooms, finely chopped
½ teas. Chili Garlic Sauce
Assembly
Iceberg Lettuce leaves
Instructions
To Prepare Dipping Sauce
In small sauce pan over medium heat dissolve the sugar in the water.
Whisk in the Mustard, Soy Sauce, Vinegar, Ketchup, Lemon juice and Sesame oil.
Remove from heat and set aside.
To Prepare Chicken
In a small bowl whisk together the Soy Sauce, Brown Sugar, Ginger and Vinegar and set aside.
In a large heavy skillet or wok over medium high heat add 1 Tbsp. of each Oil.
Heat until shimmering.
Add the chicken and stir fry until you don't see any more pink.
Remove to a plate or bowl.
Add the second Tbsp. of Vegetable Oil to the pan and add the Onion, Water Chestnuts, Mushrooms and Chili Garlic Sauce, stir constantly until the Onions start to turn translucent.
Add in the Chicken, Garlic and the Soy Brown sugar sauce.
Stir constantly until the sauce reduces and thickens to coat the Chicken and vegetables.
Serve hot with the lettuce leaves and dipping sauce.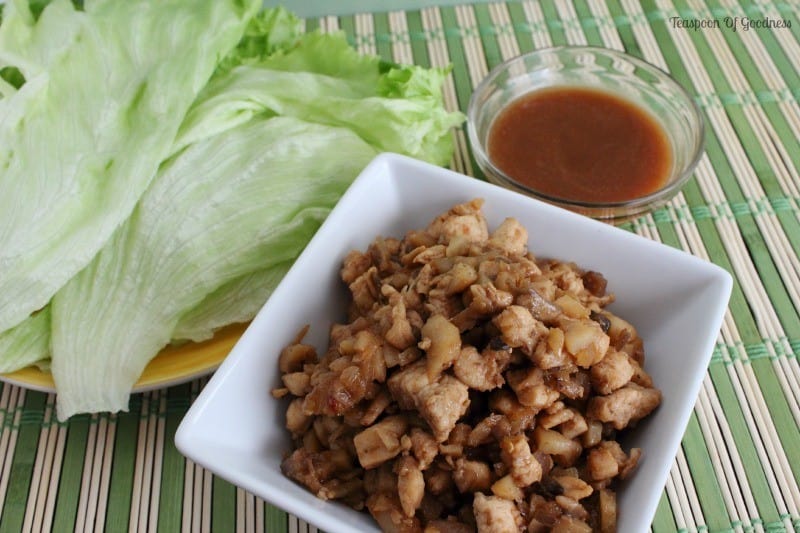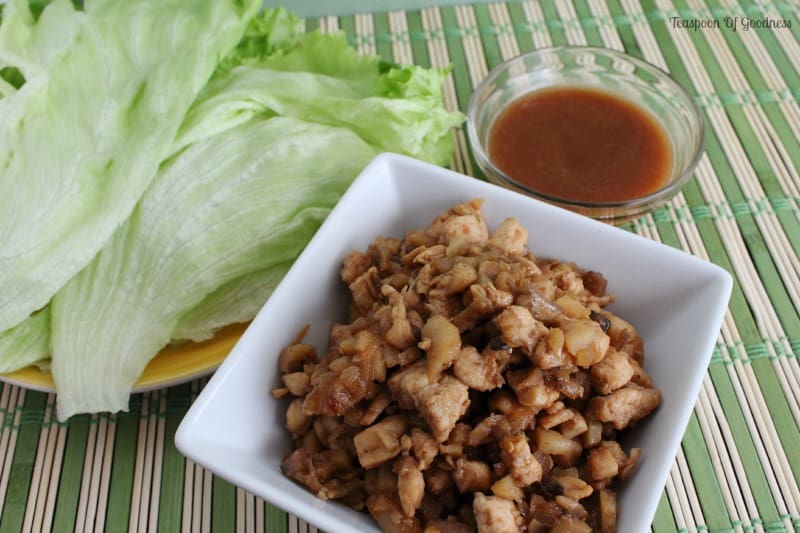 Pin
What is your favorite thing to order at PF Chang's? Have you ever tried PF Chang's lettuce wraps?
Love Copycat Recipes?
Try this Wendy's Copy Cat Chili Recipe as well.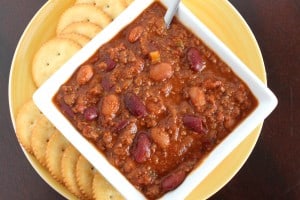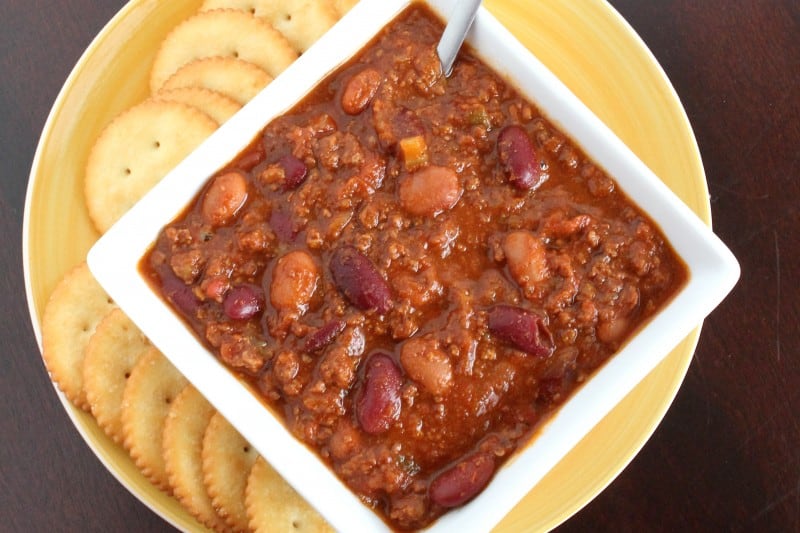 Pin