I don't know about you for sure, but I love take-out! It often gives me a chance to have things prepared quickly that I don't often get at home. However, the problem with this for me is that I don't live anywhere near a take-out restaurant. It's 25 miles to the nearest grocery store, so I'm sure you can imagine how far I must go to get some good take-out, which means that I need to figure out how to make these awesome recipes at home. That is just the case with this Ginger Chicken Stir Fry inspired by Elaine from China Sichuan Food with a few adaptions to my own family's tastes and what is readily available in my area.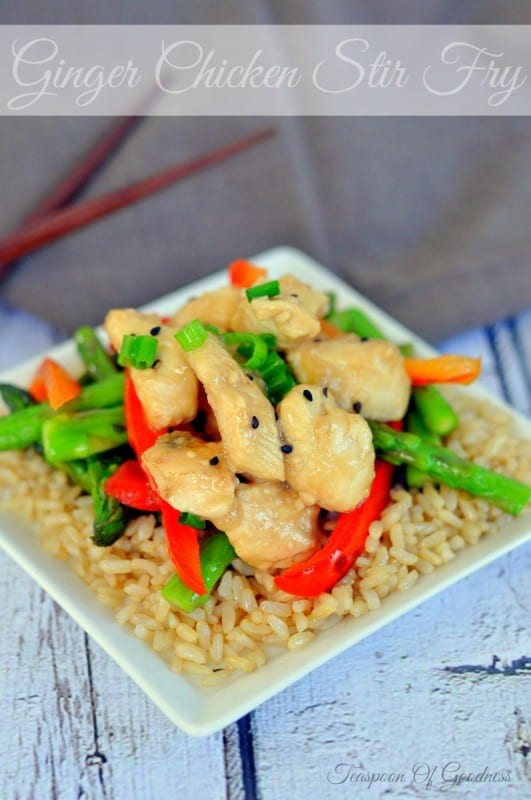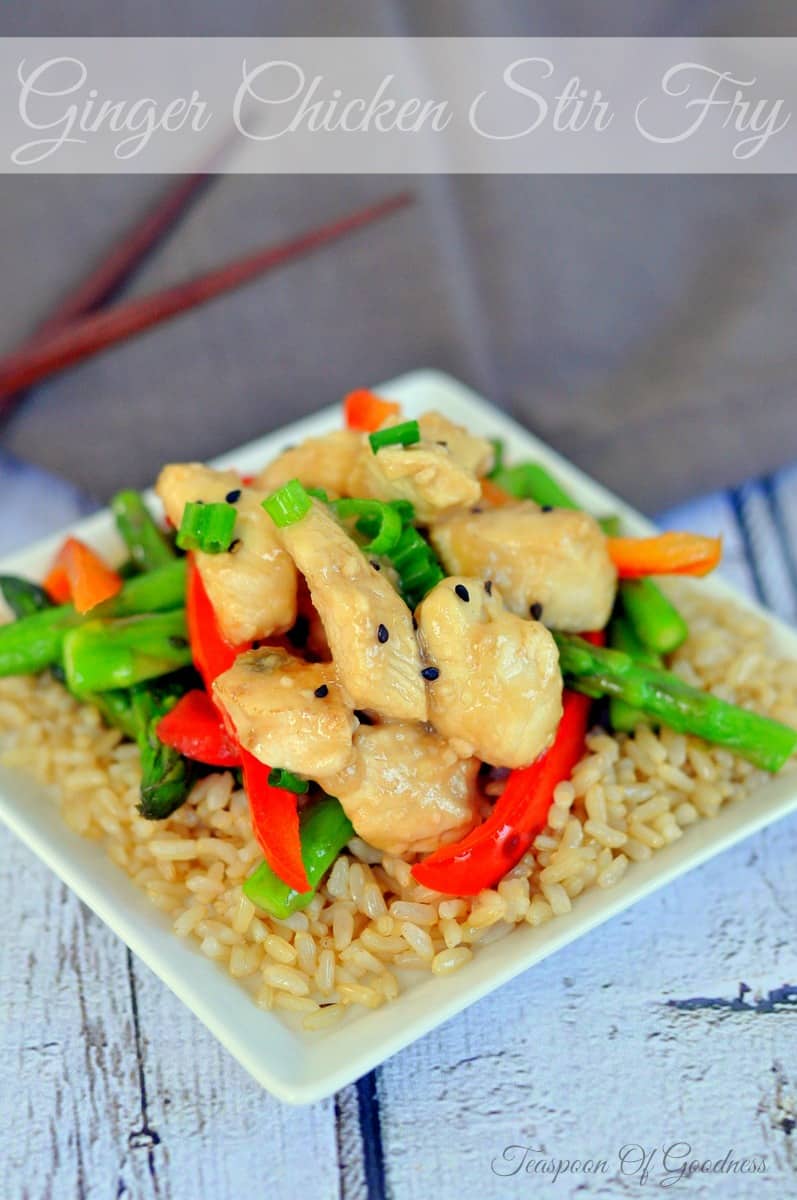 Pin
For those that live closer to take-out restaurants, I know that the expense can add up significantly for a family and that many are also concerned about the sodium levels of take-out. Cooking some of your favorite take-out recipes at home becomes a must for the pocketbook and the waistline. This ginger chicken stir fry uses fresh ingredients and really tames the salt content. Not to mention that this ginger chicken stir fry cooks up quickly. Pair it with your favorite fried rice recipe and have it on the table in less time than it takes to call, order take-out, and go pick it up. This ginger chicken stir fry is the perfect combination of crisp vegetables and a slightly spicy ginger sauce that is sure to replace your take-out order!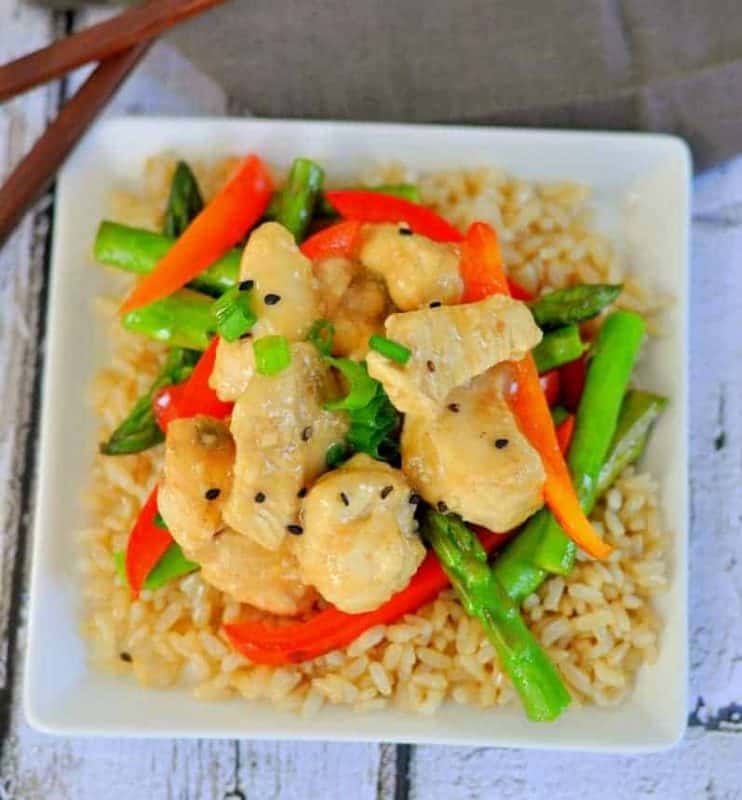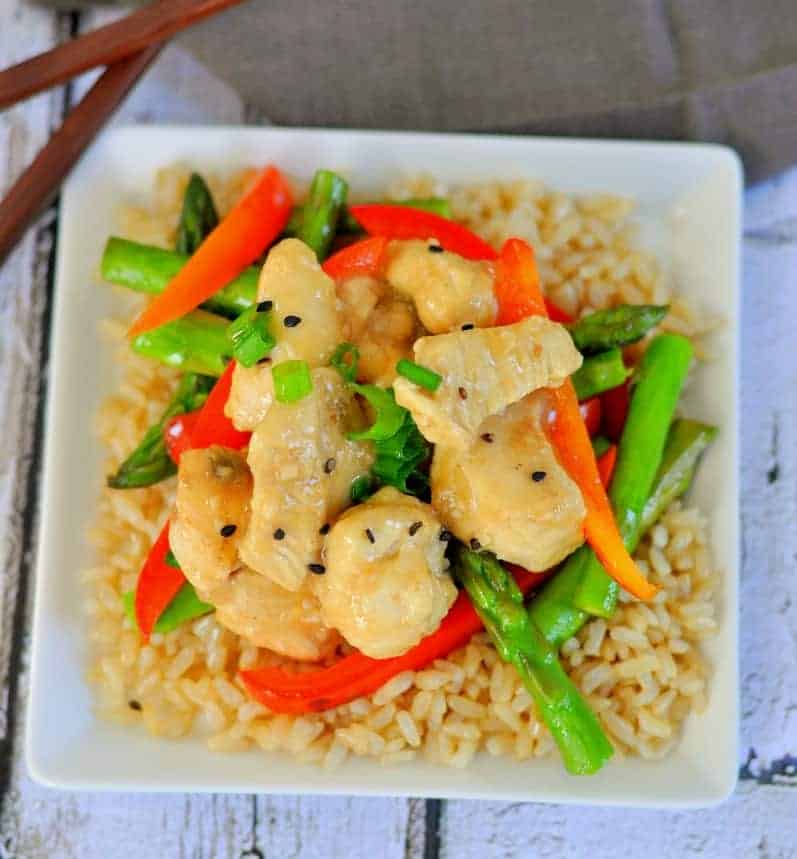 Pin
Ginger Chicken Stir Fry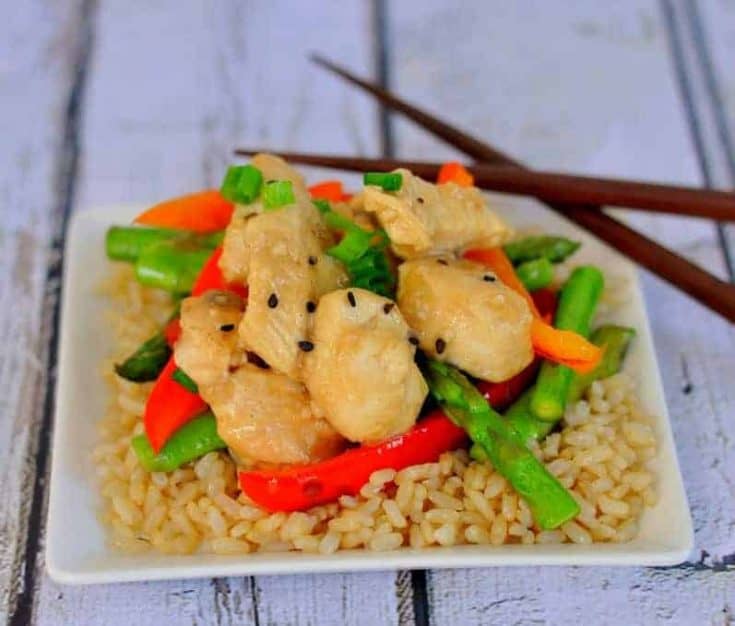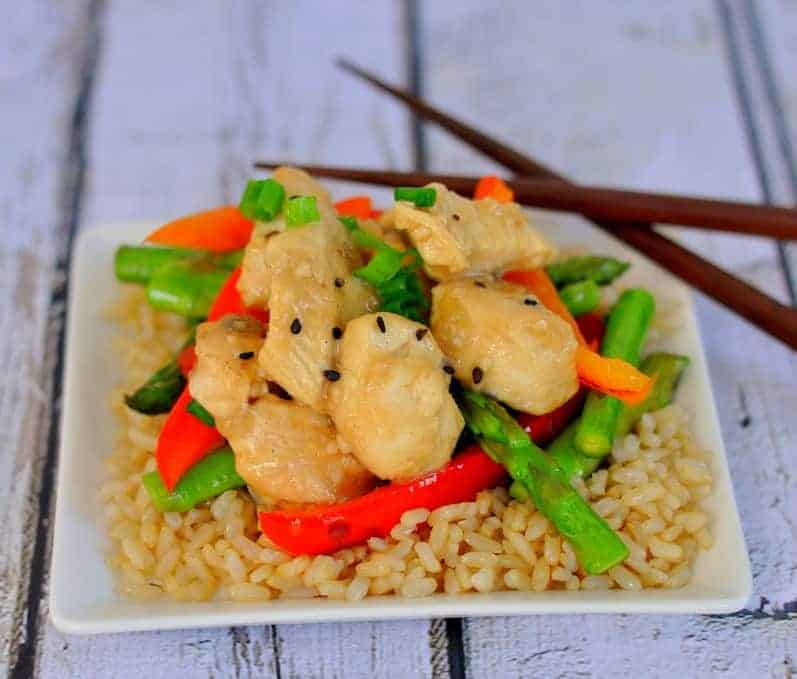 Ginger Chicken Stir Fry
Prep Time: 30 minutes

Cook Time: 20 minutes

Total Time: 50 minutes
Ingredients
1 lb chicken breast, cut into 1-inch pieces
3 green onions, sliced
2 cloves garlic, minced
2 Tbsp peeled, minced fresh ginger
2 Tbsp soy sauce
1 Tbsp rice vinegar
1 Tbsp cornstarch + 1 tsp cornstarch
2 Tbsp cold water
4 Tbsp sesame oil, divided
1 lb asparagus, cut into pieces
1 red bell pepper, sliced
1 tsp crushed red pepper
Instructions
In a small bowl, combine green onions, garlic, 1 Tbsp ginger, soy sauce, rice vinegar and 1 Tbsp sesame oil. Whisk to combine.
In a large bowl, toss chicken breast pieces with 1 tsp cornstarch. Stir in soy sauce mixture. Let marinate for 20 minutes.
Heat a 1 tbsp of oil in a large pan over medium heat. Add asparagus pieces, bell pepper and remaining ginger. Cook for 2 minutes. Remove from pan and set aside.
Add 2 Tbsp oil to the pan. Add chicken and red pepper. Cook, stirring frequently, until chicken begins to brown.
In a small bowl, combine the remaining cornstarch with 2 Tbsp water. Whisk to combine.
Add asparagus and peppers back to the pan with the chicken. Stir in cornstarch mixture and bring to a boil. Reduce heat and simmer, stirring constantly, until dish is heated through and sauce is desired consistency.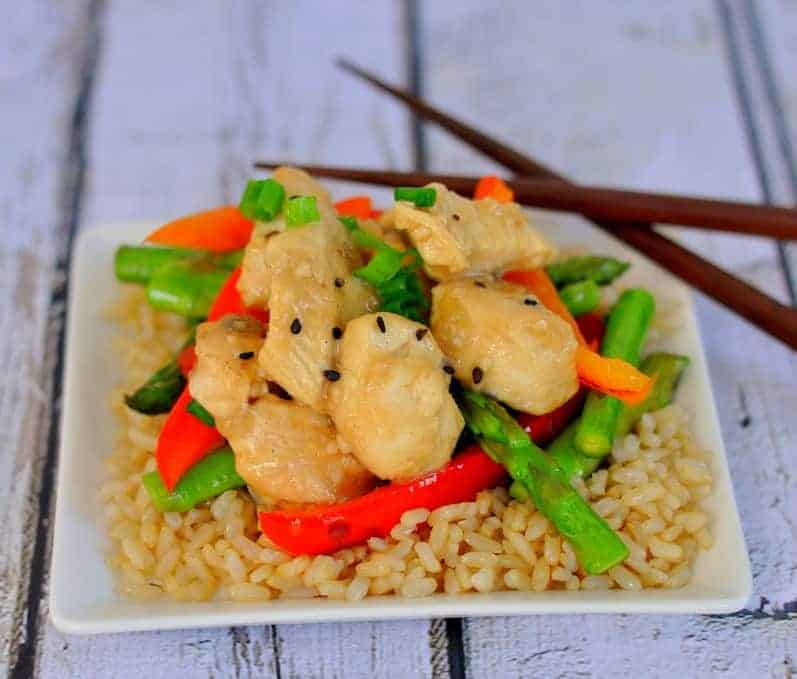 Pin
What is your favorite take-out meal? Do you prefer to make your own favorite take-out recipe at home to save time, money, and fresh ingredients?