Choosing a blender is a relatively simple process. Especially if you will only need it for the odd smoothie or soup. Even the cheapest and least powerful blender will be able to blend most fruits and vegetables.
But, when it comes to finding a blender that can easily break up ice, things get a little more difficult. Not every blender is powerful enough to blend ice.
Some, such as small smoothie blenders, can go some way to breaking down ice. But they won't be able to properly blend it into various consistencies.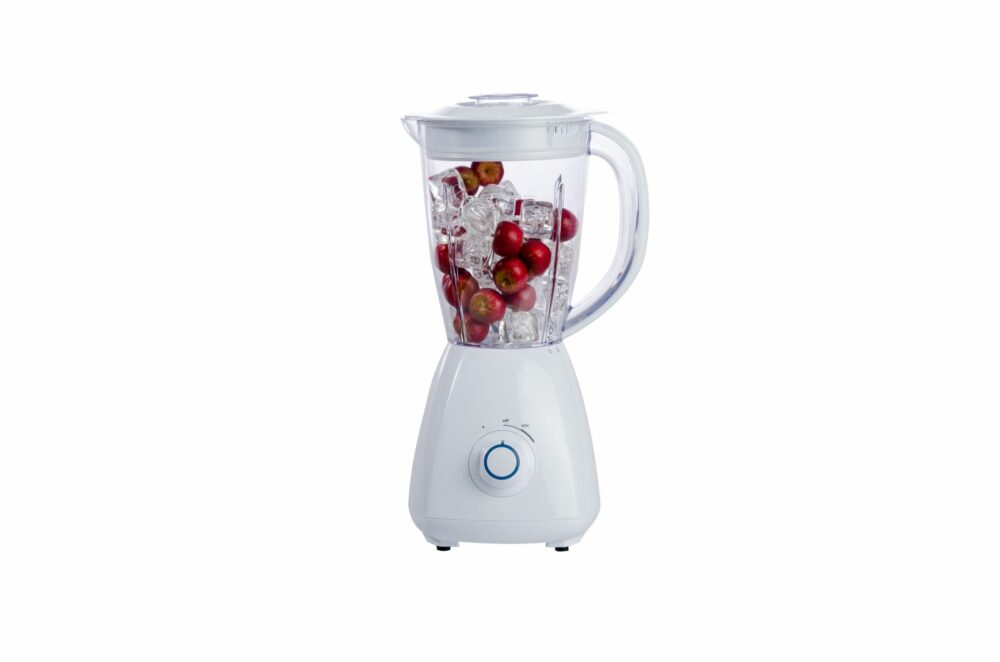 Pin
A proper ice-crushing blender will not only be able to properly break up ice. It will be able to break it up in different ways. If you really want a good blender for ice, you need one that can break it down into ice chips and into slush.
The kind of blender that can break down ice will generally be sophisticated and potentially professional. This means that they can be relatively expensive.
But don't worry. We've put together a list of the absolute best blenders for ice. These are of a range of price points and abilities. So you will be able to find the best blender for you. Read on to check out our top picks for the best blenders for ice.
Tired of lukewarm smoothies and want your ice-crushing blender ASAP? No problem, here's our top pick for the best blender for ice.
Best Blenders for Ice
Pin
Our top pick for the best blender for ice is this impressive device from Hamilton Beach. This is a high-quality blender that has an impressive array of settings. Especially for such an affordable price.
As you can tell from the "wave crusher" name, this blender is specifically designed for blending ice and frozen foods. This is great for making smoothies.
One unique feature of this blender is the heat-resistant glass jar. This means that it can be used for both hot and cold foods. This is ideal for crushing ice for smoothies and other blended drinks.
But it is also ideal for making other foods, such as soup. Often, when making soup, you need to boil the vegetables and then allow them to cool down. Otherwise, the steam and heat will build up inside the blender.
This makes it difficult for the food to blend properly and it can cause pressure to build up. This is annoying in some cases as it can cause the top to pop off. With a glass jug, this can be especially dangerous as the heat can cause the glass to break.
This is not the case with this blender. In some extreme cases, cold can also cause damage to a blender, especially if it is glass. This makes this blender even better for blending ice.
This blender can not only work in extreme temperatures but also in extreme temperature changes. This means that if you're combining some frozen ingredients and some that are hot, you won't experience any negative effects.
This blender is very impressive. But especially so for the very affordable price. This is the lowest price on this list. It is also likely the lowest priced blender on the market that is still of very good quality.
So if you're looking for a good quality blender but don't want to be spending almost one hundred dollars. This is the blender for you.
This blender also has a very large capacity blender. At 40oz, this is perfect for large batches. But, one downside of this blender is that it has a relatively low number of watts. 700W is not really a low number.
But it is definitely lower than most other options available. Including other options on this list. This means that it will be able to blend ice easily. But potentially not to such a fine consistency as other, more powerful blenders.
Pros
Very affordable

Specifically designed for blending ice

Jar is resistant to extreme temperature changes.

Available in multiple colors
Cons
Lower than average number of watts
Hamilton Beach Wave Crusher Blender For Shakes and Smoothies With 40 Oz Glass Jar and 14 Functions, Ice Sabre Blades & 700 Watts for Consistently Smooth Results, Black & Stainless Steel (54220)
Crushes ice with ease: Patented ice sabre blades combined with a powerful 700 watt peak power motor crushes contents quickly for smooth, icy drinks.
Smooth results: ordinary blenders spin contents around the walls of the jar, which can leave whole chunks untouched by the blades, but our Patented wave action system is designed to continually Force the mixture down into the blades for consistently smooth results without stirring.
Heat resistant glass jar: the 40 ounce glass jar is thermal shock tested to withstand extreme temperature changes. It is perfect for parties or making a pitcher of shakes and smoothies that the whole family can enjoy.
Mix, puree, ice crush and more with drip-free serving: 14 blending functions handles a variety of blending needs. Plus enjoy no-mess serving with an easy-pour spout designed to eliminate drips.
Easy to clean: the lid, blades and glass jar are dishwasher safe and the base comes with storage for the cord.
Pin
This is a great blender if you're looking for a smoothie blender that doesn't provide you with huge batches. This blender, as the name suggests, allows you to blend just enough to make a smoothie for yourself.
The style of the blender means that the blender jar doubles as a smoothie bottle. This means you can make a smoothie, turn the jar around, and swap the blades for a drinking lid.
This is great for being on the go. Especially if you enjoy taking a smoothie or shake with you to the gym or on your commute.
This small blender is also great for blending ice. Personal smoothie blenders are usually a little too small for blending ice. But this blender has 700W.
For one of the larger blenders on this list, 700W would not be quite strong enough. But, for this single-serving blender, it is just enough.
As this is a Ninja blender, you can be sure that it is of great quality. It is small and powerful and has just enough power and space to make an ice-cold smoothie for yourself.
Pros
Well-known and reliable brand

Easily crushes ice

Small enough for just one smoothie

Blender jar doubles as a smoothie bottle
Cons
A little expensive for the size
Sale
Ninja QB3001SS Ninja Fit Compact Personal Blender, for Shakes, Smoothies, Food Prep, and Frozen Blending, 700-Watt Base and (2) 16-oz. Cups & Spout Lids, Black
PULSE TECHNOLOGY: The powerful 700-watt push-to-blend motor base powers through everything inside the cup to give you the best of Ninja blending.
NUTRIENT EXTRACTION: Unlock hidden nutrition from whole fruits and veggies. Extract a drink containing vitamins and nutrients from fruits and vegetables. By blending whole fruits and vegetables including portions that are usually discarded.
FROZEN BLENDING: Crush ice and pulverize frozen ingredients for resort- like frozen drinks, smoothies, frozen treats, and more.
COMPACT & SIMPLE: So compact that it fits on any countertop, and has intuitive, easy-to-use controls.
ON-THE-GO CONVENIENCE: Blend directly in the 16-oz. single-serve cup, attach the spout lid, and enjoy your creations on the go.
Pin
This is a great all-around blender. As well as easily crush ice, it has 7 different speed settings that can do a wide range of different things.
If you're looking for a blender for smoothies then this is a perfect option. This blender has a setting specifically for making frozen blended drinks.
So, not only will it be able to properly crush and blend ice, it will be able to do it in the perfect way for your smoothie. You will no longer have to deal with weirdly crunchy or lukewarm smoothies.
This blender can also be used to chop up food. This is ideal if you like to prep your fruit and veg. With this blender, you can spend your Sunday chopping up the fruit and veg for your smoothies.
Then you can freeze them and take them out of the freezer every morning, ready to make a fresh smoothie.
This food chop option, which is a setting with its own button so it is much easier than chopping veg with a knife, is also great for other dishes. This setting can be used to easily chop up foods, much in the same way as a food processor would.
This blender is not as affordable as other smaller and less powerful smoothie blenders. But these have very small capacities and aren't powerful enough to break down ice. This blender is very affordable for such a sophisticated device.
Pros
Available in two colors

7-speed settings

Affordable
Cons
A little more expensive than average
Pin
This is a truly impressive blender. And so it should be for the price. This blender is definitely an investment. But it is worth it. Especially if you will be using it regularly.
This blender is excellent for crushing ice. But it can also do many other things. This blender has specific settings for making soups, smoothies, ice cream, blended alcoholic drinks, and whisking. This is almost a food processor as much as it is a blender.
These settings are very impressive as it means that they can be used for many different dishes that most other blenders cannot. Most blenders are not appropriate for making ice cream as it requires churning.
Most blenders are also not suitable for whisking as they cannot whisk in the right amount of oxygen needed. But this blender can do huge amounts.
This Blendtec blender is also very impressive as it boasts a blunt blade. This might seem like it will be a negative feature. But these blades have been designed to specifically blend ice.
And will still be able to blend foods in the same way as other blenders. This is also a much safer option than most other blenders.
Pros
Multiple colors available

Multiple versions available

6 pre-programmed settings

10-speed manual controls
Cons
Blendtec Total Blender Classic - Includes FourSide Jar (75 oz) - 10-Speed Professional-Grade Countertop Blender - High-Power Kitchen Blender with 6 Pre-Programmed Cycles - Black
Kitchen Countertop Blender: Professional-grade blender uses 1-touch buttons to control the 6 pre-programmed cycles, pulse option, and 10-speed manual control
Preprogrammed Blender Cycles: Do more in the kitchen with this blender's preprogrammed cycles for batters, mixed drinks, smoothies, frozen treats, whole juices, and hot soup
Large and Powerful Kitchen Blender: The BPA-free, 75 ounce volume jar has a 32 ounce blending capacity for wet and dry foods; blends beverages for 3–4 people
Easy to Clean: Simply add hot water and a little dish soap to the jar and blend for several seconds to clean; Use a wet cloth to wipe down the machine
Feel Confident: With technology to make blending simpler and more effective, Blendtec is the ultimate tool for your culinary creations
Pin
Even if you have never bought a blender before, you will recognize the name Vitamix. This is a very well-known brand. It is a brand regularly used by professionals. This large capacity blender is very impressive.
It comes in multiple versions that have various accessories. So you will be able to personalize it to your needs. These accessories include a smoothie bottle, a scraper, and a cup.
This blender has a relatively large capacity at 64oz. But it is still very compact. This is because the base on which the blender stands is very small and compact.
The word "professional" might bring to mind the image of a large, industrial blender. But this is definitely not the case. This blender will be able to provide professional power on a domestic scale.
Surprisingly for such an expensive product, this blender has some very limited and simple settings. There are many other, more affordable, blenders that have many more settings that are complex and sophisticated.
This is a slight downside. But it means that the simple settings will be the absolute best that they can be.
As this is such an expensive blender, it's important to ensure that you know exactly what you will be using it for. If you are looking for a high-quality blender for smoothies (and the cost is not a large amount for you), then this is a great option.
Pros
Professional standard

Compact

Large capacity jug
Cons
Very expensive

Limited number of settings.
Vitamix, Red 7500 Blender, Professional-Grade, 64 oz. Low-Profile Container
Variable Speed Control: Ten variable speeds allow you to refine every texture with culinary precision, from the smoothest purées to the heartiest soups
Pulse Feature: Layer coarse chops over smooth purées for heartier recipes, such as chunky salsas or thick vegetable soups.
Low-Profile 64-ounce Container: Perfect for family meals and entertaining, while fitting comfortably under most kitchen cabinets.
Hardened Stainless-Steel Blades: Our aircraft-grade stainless steel blades are designed to handle the toughest ingredients, so from the first blend to the last, you get the same quality results.
Self-Cleaning: With a drop of dish soap and warm water, your Vitamix machine can clean itself in 30 to 60 seconds. Cord - 6 feet
Buyers' Guide
As smoothies and protein shakes have become more popular, blenders have become a staple of most kitchen cupboards. But when once most blenders were usually large food processors, more variations have become available.
There are certain blenders, such as small smoothie blenders, that are relatively powerful but don't have particularly sharp blades. This means that, even if you enjoy having ice in your smoothies, they generally cannot break up ice properly.
If you want to properly break up ice, you need a large scale jug blender. That said, it is possible to find some good quality personal smoothie blenders. Read on for our guide to find the best, and most powerful, blender for you.
Blades
One of the most important features of a blender are the blades. Not only because a blender without blades is useless. But because the size and sharpness of the blades will have one of the biggest impacts on what a blender can break up.
The blades, along with the overall power, will be what ultimately determines whether or not a blender can break up something, such as ice.
Depending on how sophisticated a blender is, it might come with several different kinds of blades. This is ideal as it will allow you to choose the perfect blade for the food you are blending.
If, for example, you are making a smoothie, you're going to want to blend the food to a thicker consistency than you would for a soup.
One of the best options for making a wide range of foods is a blender that also doubles as a food processor. This can help to break up the ice into different sizes.
So, if you have large ice cubes that you would rather be ice chips, you can pulse these until the pieces of ice are small enough.
But, if you want to make a smoothie, then you're going to want the ice to become closer to a slush. This is because chunks of ice will be difficult to drink. This will require more power and, sometimes, more blades.
Even if your small blender seems to be properly breaking up ice, it might be doing more damage than you think. If the blender has not been intended to break up ice, the blades could be damaged.
When they hit the ice, the blades can be bent or blunted. This is because they will not be made from a strong enough metal to break up ice.
Power
The power, in combination with the blades, is going to be one of the most important features to consider.
Some small blenders, such as those intended for simple smoothies, won't be particularly powerful. They might go some way towards breaking up ice. You will need a more powerful blender to properly break up ice.
If you use a blender that does not have the appropriate amount of power, you might damage the blades and rotator if you try to use it to break up ice. Even if your small blender breaks up the ice, it will require a lot more power than it is intended to use. This means that it can overheat.
Settings
Some blenders simply have "off" and "on" buttons. Many, especially large capacity jug blenders, have more complex and sophisticated settings. These can range from a wide range of speeds. Up to more specific settings that include, for example, "blend" or "pulse".
Some very sophisticated blenders will have a specific setting for pulsing ice or for "frozen drinks". If this is your main reason for buying a blender, then you will be able to find one that suits your needs perfectly.
Frequently Asked Questions
Do watts matter in blenders?
This mostly depends on what you're going to use your blender for. The number of watts, and the overall power, of a blender isn't the only factor to consider. But it's definitely an important one.
A blender will usually have a wattage of around 500W to 1,000W. Anything more is rare but it is possible. Anything under 500W will have difficulty crushing ice. This is because the number of watts will control how fast the blender blades will move.
But also how forcefully they will spin. This means that the number of watts will affect whether or not your blender can crush ice.
As watts are a measurement of power, a blender with a high number of watts will be more powerful. If you want a blender that can crush ice without any problems, then try to find one with around 1,000W.
A blender with somewhere between 700W to 1,000W will be best for crushing ice. Less powerful blenders might be able to break up ice to an extent. But they generally won't be able to crush it as other blenders can. This is especially important if you're looking for a blender that can crush up ice to be used in a smoothie.
Can you blend ice cream in a blender?
Kind of. But not really. Ice cream isn't made by blending but by churning. This is a slightly different process. It is much slower than blending.
Churning involves stirring and shaking the cream and other ingredients until it is thick.
As ice cream is churned and then frozen, it won't quite work with a blender. A blender, due to its sharp blades, won't combine the ingredients in the same way as a churner.
The ingredients will still break down, mix together, and freeze. But they won't have the same thickness and creaminess as ice cream.