The summer fruits have been amazing lately! Blueberries are on sale this week, and the watermelons have been extremely juicy, so this watermelon salad has been making a regular appearance. Nothing screams summer in our house like watermelon, and it's nice to have some variety when it comes to watermelon. Watermelon, while delicious by itself (and eaten weekly, if not daily in our house), doesn't have to be just plain!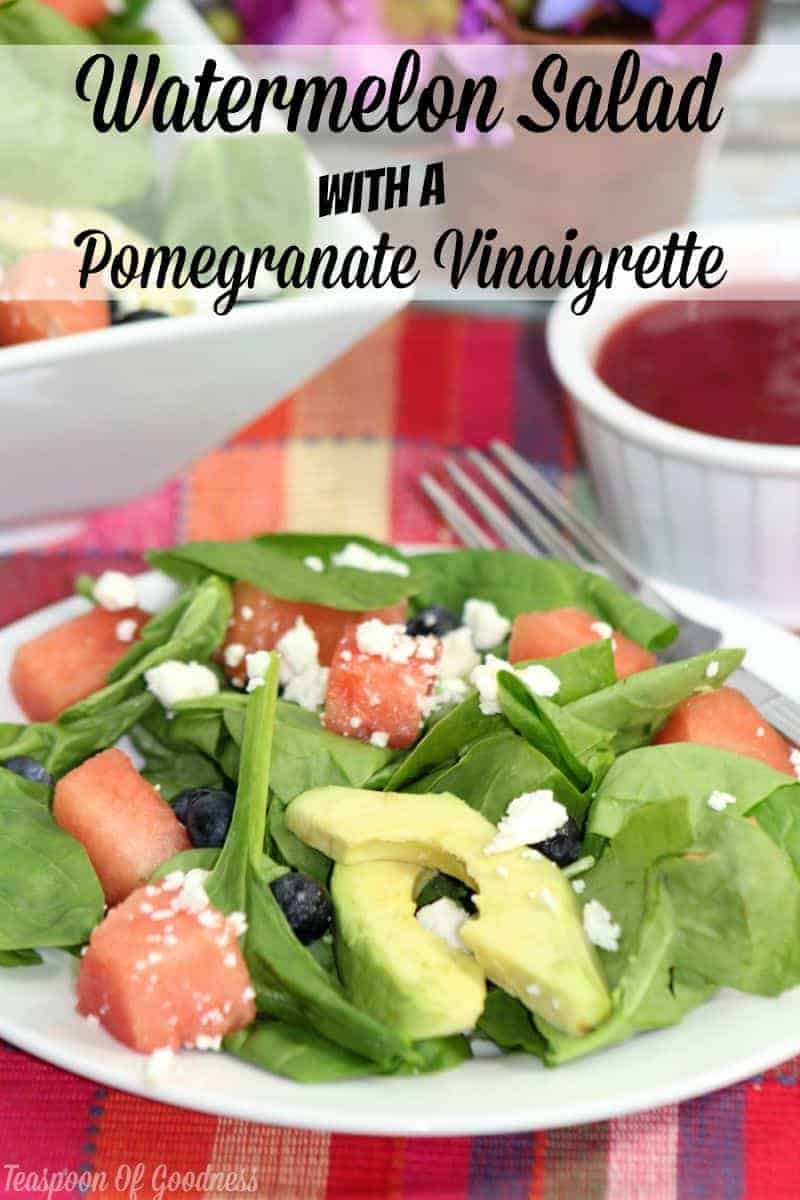 Pin
With summer in full swing, you can enjoy this refreshingly cool watermelon salad with a pomegranate vinaigrette without heating up the kitchen. Toss on a few slices of leftover grilled chicken from the night before, and you have a meal that won't heat up the kitchen! During strawberry season, this salad works wonders with quartered strawberries as well.
Watermelon Salad With A Pomegranate Vinaigrette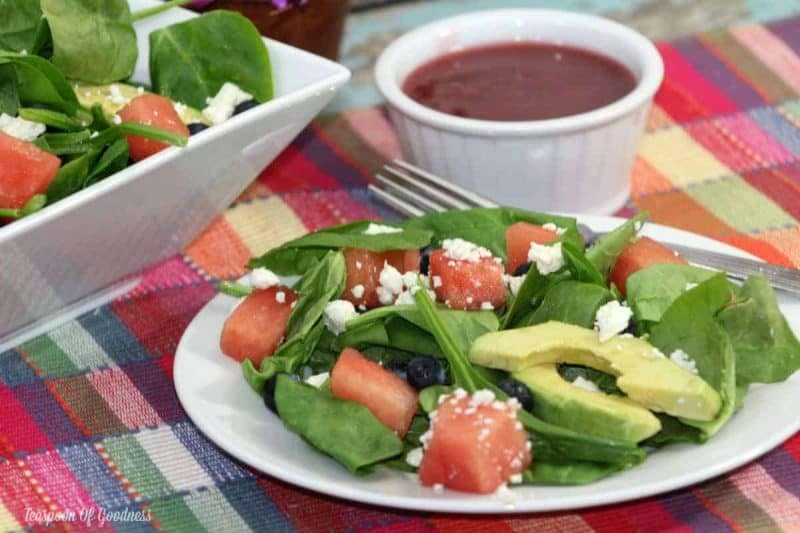 Watermelon Salad With A Pomegranate Vinaigrette
Ingredients
Salad
5 C fresh spinach
2 C fresh cubed watermelon
1 C blueberries
2 freshly cut avocados
1 C feta cheese
Pomegranate Vinaigrette
1 1/2 C Pom pomegranate juice
1/3 C olive oil
5 tsp agave
1 TBSP white vinegar
1 tsp Dijon mustard
1/4 tsp fresh ground pepper
1/8 tsp salt
Instructions
Salad
Rinse off the fresh spinach and dry it off with a kitchen towel or paper towels.
Place the spinach in a large salad bowl.
Toss in the cubed watermelon and blue berries.
Cut the avocados in half, remove the pit and skin, slice them into thin pieces.
Toss the salad ingredients together.
Pomegranate Vinaigrette
Reduce down the pomegranate juice in a medium pot, stirring often to 1/4 C. (about 15 minutes)
Take off heat and pour into a small -medium bowl.
Allow to cool completely.
In a separate bowl pour the olive oil, agave, vinegar, mustard and salt and pepper.
Whisk together. Combine the reduced down pomegranate juice and other ingredients.
Whisk all ingredients together.
Allow to chill before adding to the salad.
To Prepare
Toss salad with chilled dressing and serve.

What big plans have you had this summer? Any backyard BBQs or brunches that this watermelon salad would work wonders for?
Visit Teaspoon Of Goodness's profile on Pinterest.