With a newborn in your life, the last thing you want to be worrying about is trying to whip up something for the baby's dinner between nap time and nappy changes.
Having a baby food steamer and blender is the perfect piece of feeding equipment that will make life as a parent a little easier, as it's ideal for making your favorite baby recipes.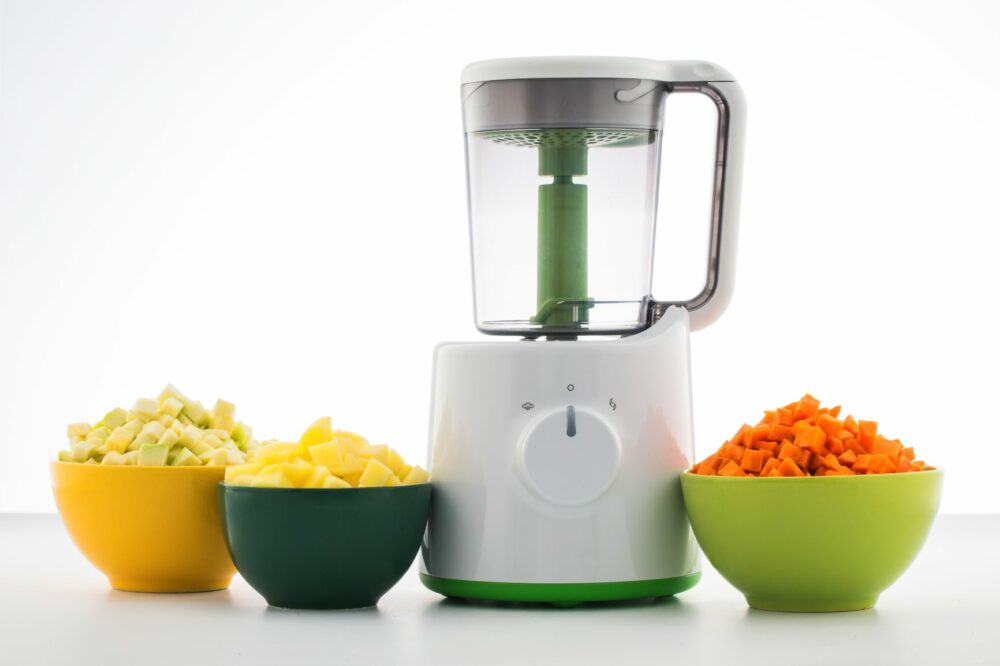 Pin
The transition from milk to solid foods is a long process, and it's one that requires lots of mashing, crushing, blending, and pureeing – try doing all that by hand whilst holding a baby in the other!
By doing the hard part for you, baby food steamers and blenders mean all you need to think about is the ingredients you're putting into this miracle-working machine.
There's a pretty big market for this type of convenience, with more and more people valuing user-friendly interfaces and simple set-ups from the things they use in their day-to-day lives.
When there's so much to choose from, it can get difficult to know what type of things you should be looking over, so we've put together a buyer's guide that will tell you everything you need to know. We've also reviewed five of the best options currently available on Amazon.
In a hurry to get lunch ready for your hangry baby? Check out our top pick to see what we value the most in a baby food steamer and blender. The EVLA Baby Food Maker is one you won't want to miss out on!
Best Baby Food Steamers and Blenders
Pin
Our top pick is a baby food steamer and blender that can do it all. It steams, blends, reheats, and defrosts, and it can even self clean itself and sanitize the bowl in readiness for the next time you come to use it. It's super convenient and the stirring cup is dishwasher safe.
With a wide opening at the top, it's easy to clean the rest of the machine and there's less chance of food build-up or mold growing in places that are harder to reach. You'll be able to easily turn solid food like vegetables, fruit, and meat into a pureed consistency for your baby.
The touchscreen interface is clear and easy to use and it adds to the modern look of this baby food and steam blender. It'll look great in any kitchen and the white color will match any style you already have in your kitchen, so it's quite versatile in this respect.
Most importantly, you can have peace of mind knowing that you can trust this family brand, owned by parents who understand the worry a parent feels regarding their child's safety.
The materials used in the manufacturing of the baby food maker are free from all nasty toxins such as BPA, phthalate, and lead.
Pros:
Multi-functional beyond steaming and blending

Self-cleaning and sterilization option

Sleek, compact design that doesn't take up too much space

The large water tank is easy to clean thanks to a wide opening

Easy to use touchscreen user interface

Reasonably priced

The stirring cup is dishwasher safe and the rest of it is easy to clean
Cons:
The stirring cup can become stained over time
Baby Food Maker, Food Processor Blender Grinder Steamer | Cooks & Blends Healthy,Homemade Food in Minutes | Self Cleans | Touch Screen Control | 6 Reusable Pouches
FOOD BLENDER & STEAMER IN ONE: EVLA'S baby food maker steaming function allows you to cook ingredients well before blending, preserving their natural flavor, then puree and blend fruits, vegetables, and meats into a smooth, consistent texture.
HIGH QUALITY, FOOD BLENDER & STEAMER: Safety is a top priority when it comes to our baby food processor. That's why we've crafted it from high-quality, food-grade materials that are safe and durable. It is BPA-free, ensuring that your baby's food is free from harmful chemicals and toxins.
FAST & EASY HEALTHY BABY FOOD MAKER: With 3 easy steps, add water to water tank, add desired ingredients, touch screen start - preparing healthy homemade food for your growing little one cannot be simpler or easier. Our baby food maker not only saves time and money but also ensures that only the ingredients you want are added to your baby's food
SIMPLE TOUCH SCREEN CONTROL: The intuitive touch screen controls of our baby food processor allow you to easily select your desired settings, making meal prep a breeze. With just a few taps, you can adjust the blending speed, temperature, and steaming time to suit your specific needs and preferences.
SELF-CLEANING BABY FOOD MAKER: Our baby food processor is designed to be self-cleaning, saving you time and effort when it comes to cleaning up after mealtime. Simply add water and a drop of detergent, and the machine will do the rest, leaving you with a clean, hygienic appliance ready for the next use.
Pin
Next up we have the BEABA Babycook steam cooker and blender, which is another multi-functional choice as it has a 4 in 1 system.
You can use it for a number of things, including the preparation of vegetables, fruits, meat, and fish, whether it's raw or pre-cooked. It's perfect for your baby and toddler alike if you're brave enough to have two under two!
It's slightly more expensive than our top pick and that's without the self-sanitation feature, but it's one of the easiest products to use thanks to the innovative one-handed operation that means you can be whipping up a batch of puree whilst holding your baby in the other.
With the touch of a button, you can open and close the food maker, and it will automatically switch off and notify you via a timer alert when it's finished its task.
There is also a patented steam heating system and it's designed to lock in as many of the food's nutrients as possible. It does everything you need it to and it does it fast, so when you're rushing to squeeze in a last-minute feed it won't let you down.
It has a large capacity of 4.5 cups which is great for batch cooking and it comes with a couple of free accessories. It's BPA, lead, and phthalate-free so it's completely safe to use for food purposes; just remember to wash it out thoroughly before its first use, and thoroughly dry it after cleaning or you might end up with mold growing.
Pros:
Multi-functional

Super convenient one-handed, one-touch operation

Simple and easy to use settings control panel

A couple of free accessories included

Patented steam heating system

Large 4.5 cups capacity

BPA, lead, and phthalate-free
Cons:
Slightly more expensive option

No self-cleaning or sanitizer function

Hard to dry the water tank completely which can lead to mold
BEABA Babycook Solo 4 in 1 Baby Food Maker, Processor, Steam Cook and Blender, Large Capacity 4.5 Cups, Healthy at Home, Dishwasher Safe, Cloud
The very first and best-selling baby food maker in the world! 1 machine operation – no pots, pans, blenders, microwaves or clean up. On many lists of baby registry must haves!
Steam cooks raw chicken, fish, fruits or veggies to any stage baby food and toddler food in under 20 mins. 4-in-1 function (steam cooks, blends, defrosts, reheats healthy food). Unique blend feature lets you control consistency from fine to chunky puree.
Auto shut-off cooking timer, no need to watch over the machine! Patented baby food steamer cooking system with unique, one handed operation (designed so you can hold baby in one hand and make organic baby food with the other).
Great for weekly meal preps and then storing baby food in baby food containers. Make any stage baby or toddler food from purees to solids. Add to your list of baby essentials and don't forget to pair with our BEABA baby food containers, baby bowls, baby spoon and baby food freezer tray.
Large 4.5 cup bowl with graduation markings. Stainless Steel Water Reservoir. Dishwasher safe steam basket & cooking bowl. BPA, Lead & Phthalate Free.
Pin
The Baby Brezza glass baby food maker is the next option we're going to review, and unless it's on sale, it's another fairly expensive choice. You'll be able to prepare your baby's food in as little as 10 minutes, so there'll be no more grumpy grizzling why they wait.
It automatically steams and blends, and it does it in one step for the ultimate ease and convenience. Just a push of the button will have this baby food maker doing exactly what you want, and you won't even need to transfer the food once it's cooked.
However, it doesn't do much beyond this, as it's one of the options that stay true to its core functionality. With three settings, you can use it to blend only, steam only, or automatically blend after steaming.
Unlike many of the other baby food steamer and blender options we looked at, the Baby Brezzer food maker features a glass bowl and it has a 4-cup capacity which means you'll be able to cook in batches and have meals ready for next time.
It's super easy to use and just as easy to clean thanks to the dishwasher-safe bowl and blade, and the steam tank can be opened so you won't need to miss a spot when you're wiping the inside of the tank.
The water tank is also removable so you can fill it up at the sink, and there's a 1-year limited warranty that protects you against faults within the first year.
Pros:
Durable glass bowl with large 4-cup capacity

Easy to use LCD control panel

Super easy to clean

Great for batch cooking

Removeable water tank so you can refill it at the tap

You can prepare food quickly in as little as 10 minutes

The bowl and blade are dishwasher-safe

BPA-free
Cons:
Limited functionality compared to other options we've considered

Slightly more expensive
Pin
If you're looking for a slightly more affordable option, then the Homia baby food maker still has a lot to offer and it's absolutely packed with useful features.
It's an 8-in-1 processor that's perfect for pureeing both baby and toddler foods and it can disinfect itself for the ultimate food safety for your baby. Seriously, is there anything it can't do?
It's designed with a smart touch LCD panel user interface and it supposedly offers intuitive touch control for smoother operation and easier handling.
The stainless steel blade is another useful feature as it can be removed when you're cleaning up so you'll have better reach, and the stirring cup and pyramid baskets are dishwasher safe for your convenience.
You can keep an eye on your water level so you'll know whenever you need to top up, and there's even a descaler indicator which means you're better able to control the water levels.
Included with the purchase are the food maker itself, three steaming baskets, a heat insulation cover, a splash cover, a pair of baby bottle tongs, a recipe book, a user manual, and a gift box.
There is an automatic shut-off function that will kick in when the food has finished being prepared, and it's super safe thanks to the absence of any harmful ingredients or toxins in the materials that it was manufactured with.
Pros:
8-in-1 multi-functional machine

Can self-clean and disinfect itself

Smart touch LCD display screen

Easy to use settings

Removable stainless steel blade makes cleaning easier

The stirring cup and three storage baskets are dishwasher safe

Automatic shut-off safety feature

A few bonus accessories included

Reasonably priced
Cons:
Baskets are on the smaller side and can't hold large amounts of food
Baby Food Maker Chopper Grinder - Mills and Steamer 8 in 1 Processor for Toddlers - Steam, Blend, Chop, Disinfect, Clean, 20 Oz Tritan Stirring Cup, Touch Control Panel, Auto Shut-Off, 110V Only
8 IN 1 Steam, Sterilize, Cook, Juice, Warm, Defrost, Puree and Chop - All You Require From a Food Processor for Babies. A 3 tier basket design allows you to cook 3 separate meals at once
EASY TO USE Intuitive Touch Control Panel Interface is All You Need to Prepare Healthy and Safe Food for Your Baby - Simply Press One Button to Steam the Food and Then Press Another Button to Chop it. Baby Food Maker Does All That With Ease
SAFETY FIRST Stirring Cup is Made of Tritan Plastic, Which is BPA, Phthalate and Lead Free, ETL Safty Certification (UL982 and UL1026 Standards for Safety)
EASY TO CLEAN Stirring Cup is Dishwasher Safe. Don't Waste Your Precious Time Cleaning the Device When You Can Spend it With Your Family
STYLISH This Cute Baby Food Processor / Steamer / Blender / Chopper Fits any Kitchen Interior with Style. It's the Perfect Time Saver for Moms to Be with their Families. Compatible with 110V power network ONLY.
Pin
Last but not least, we looked at the Babymoov Duo Meal Station food maker. With 6 primary functions, including steam cooking, multi-speed blending, pureeing, warming, defrosting, and sterilizing (which has been approved by a professional nutritionist), it can perform a range of tasks to suit whatever it is you need.
It's one of the larger options on our list which is perfect for cooking your baby food in batches, as you'll have a week's worth of food from just one use. It's also one of the most expensive options we've included, but if you have the money to spend it's worth it.
The LCD display screen is clear and easy to use and it delivers audio alerts when in use so you'll know what it's doing at all times.
The Duo Meal Station is fully programmable so you can tailor the settings to suit your specific needs, and there are three preset speeds to choose from as well should you prefer to use these.
You can cook with peace of mind knowing that the equipment you're using is free from the likes of BPA, lead, and phthalate which could all be harmful to your baby.
Pros:
2 steamer baskets included

3 speed blender options which can be programmed for personalized settings

Preserves natural vitamins, nutrients, and the flavor of food while it's cooking

Large capacity which is great for batch cooking

Easy to use LCD display screen

Space-saving design

BPA, lead, and phthalate-free
Cons:
Babymoov Duo Meal Station Food Maker 6 in 1 Food Processor with Steam Cooker, Multi-Speed Blender, Baby Purees, Warmer, Defroster, 1 Count (Pack of 1) (Nutritionist Approved)
MAKE HEALTHY DELICIOUS FOOD 2 steamer baskets, 3 speed blender easily programmable for various cook times, allows for preservation of nutrients, vitamins and the natural flavor of the foods
LARGE CAPACITY SAVES TIME Make up to one week of fresh and nutritious food in just minutes thanks to its large steaming bowl and blender capacity
The product features power of the steaming unit 110V / 500W with power of the blending unit : 110V / 3 speeds and features 9oz capacity
EASY TO USE The LCD display and audio alerts make operating the Duo Meal Station a breeze. It is fully programmable and alerts you when done.
6-IN-1 DESIGN SAVES SPACE All-in-one design that cooks, blends, warms and defrosts your food and can be used as a bottle warmer/sterilizer to reduce need for separate appliances and save space ; EASY TO CLEAN: It's easy to clean and components are dishwasher safe. It's also BPA, lead and phthalate free
Buyer's Guide
Functionality
No more juggling multiple pots and pans, because these clever, useful pieces of feeding equipment are here to help by performing more than just one function.
As well as steaming and blending, the two functions that make a product qualify for this article, some of the options we've included will be packed with features beyond that for even more convenience.
For example, you might also find these types of machines are equipped with additional functions such as sterilizing, juicing, warming, defrosting, or chopping, which can combine the needs of your baby's food with some of your own.
Safety features are another important consideration, and some of the best options will have an automatic shut-off feature that turns the machine off when it's finished, or at the very least certain models will set off a timer when the food has finished being prepared.
Ease of Use
Having all these different features and functions at your disposal is great, but only if you actually know how to use them without accidentally pushing a button you didn't mean to.
How easy the user-interface is to get to grips with will make a big difference when you're sleep-deprived and you can barely tell what day of the week it is.
Also, think about how easy it will be to clean, and if the blades will be an obstacle or if it can all be dismantled and reassembled afterward to make it easier for cleaning.
A simpler product will have fewer parts so there is automatically less to clean. Some parts may even be dishwasher safe which will mean there's less for you to do, and blenders with a wide-top opening are typically easier to wipe down as you can get right inside with a sponge.
Size
How much space is this thing going to take up on your kitchen counter? Do you have enough storage room to house it in one of your cupboards, or will it be kept permanently out on display while you're weaning your baby?
Everyone knows that babies come with all sorts of clutter, so you'll probably want to make space-saving cuts wherever possible.
On the other hand, pureed baby food can be batch cooked and then frozen for up to one month, so it may be worth sizing up to a bowl capacity that's slightly larger than you think you need so you can whip up a few batches at once and have readily prepared baby food available for when you don't have the time or energy.
A smaller bowl means more frequent use and consequently more frequent cleaning, so depending on what you can afford to give up, both monetarily and in terms of space, this is a choice that will come down to your specific preferences and needs.
Safety of Materials
Of course, keeping our babies safe and healthy is far more important than any type of convenience. Reputable, trusted manufacturers are going to be your best bet for using the highest quality materials that are safe to use for food that will be consumed by your child.
The key things to look out for is that they are BPA, BPS, Phthalate, and lead-free as these are all harmful toxins that could potentially be poisonous or cause your baby to become unwell.
The leading brands will also follow strict quality control guidelines and will ensure that their products are being manufactured under the safest of conditions.
Noise Levels
If you've just put the baby down for a nap, the last thing you want to do is wake them back up by putting on the blender for it to violently whir into action as it starts to smash up the ingredients.
The majority of baby food and steamer blenders will operate at reasonable volumes, but if you opt for a poor-quality product then you may find it can be quite disruptive.
The blenders that are more powerful are also likely to be noisier, which is something you may want to consider.
Frequently Asked Questions
Should I make my own baby food or can I buy it from the store?
These days, the baby food found in stores is of incredibly high quality and they contain much fewer processed ingredients than they perhaps did in the past.
The majority of well-known brands have excellent track records, so choosing to feed your baby using store-bought pureed food is absolutely fine, although it'll be more expensive than making it yourself.
Can you puree in a blender?
Of course! That's the whole point of having a blender, so it would make sense that you can puree foods using one.
Pretty much all wet or soft foods can be blended up smoothly into a pureed paste, and you can loosen it as needed by adding water.
Can you put dry ingredients in a blender?
It's recommended that you use at least a few wet ingredients or include a liquid element if you're using mostly dry ingredients, but if you follow these precautions, then yes, you should have no problems using dry ingredients in a blender.
Without the wetter counterparts, your mixture will end up too thick and it will stick to the sides rather than blending smoothly.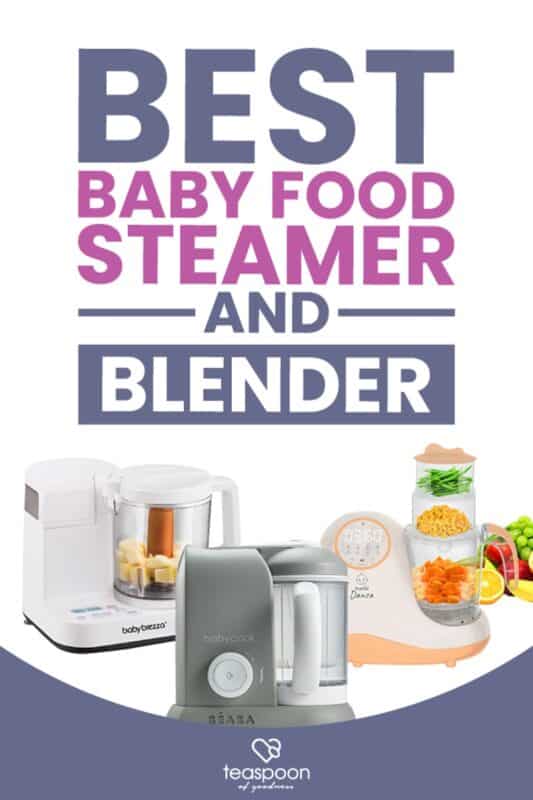 Pin