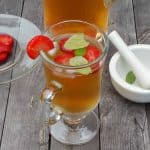 Summer months bring about the need for a great cold drink on hot days, and our Strawberry Mint Iced Tea Recipe is the perfect choice.
In a small to medium pot boil 1⁄4 cup water.

Next, put the tea bags in the boiling water, making sure to dunk a few times.

Take water from heat and set aside and allow tea bags to set for a few minutes.

Pour the remainder of water into pitcher.

Take the tea bags from hot water and toss in trash.

Pour the hot tea into the pitcher.

Slice the strawberries into thin slices and add them to the pitcher.

Using a mortar and pestle crush about half the mint leaves and add them to the pitcher.

Add the rest of the mint leaves into the mix whole

Allow to sit for five minutes before serving so it can fully fuse.

Add ice if you would like and serve
If you do not have a mortar and pestle, you can also chop the leaves and it will work almost as well.