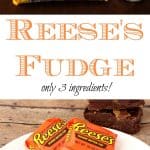 An easy no bake fudge bars recipe is one of my favorites. Add in Reese's peanut butter cups and you have a dream treat.
20-22

Reese's Peanut Butter Cups

3

Cups

of Milk Chocolate Chocolate Chips

1 14

oz

can of Sweetened Condensed
Line a 9×9" pan with wax paper.

Place the peanut butter cups in an even layer on the bottom of the pan. (I used 15 on the bottom)

Break the remaining Reeses into smaller pieces.

Place chocolate chips and sweetened condensed milk in a medium saucepan over low heat. Stir until chips and milk are melted together.

Spread chocolate mixture evenly over peanut butter cups in prepared pan.

Immediately sprinkle with the remaining broken Reese's, pressing them lightly into the fudge. Cool until firm. I like to cool the fudge on the counter until it's room temperature, then cover with plastic and place in the refrigerator to harden completely.

Cut into squares and serve.