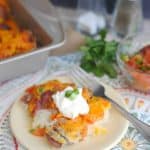 My recipe will knock any other recipe at your family's table out of the park. Introducing Salsa & Cheddar Redskin Potatoes,
Salsa Ingredients
4

medium ripe tomatoes

diced

4-5

green onions

1

medium jalapeno

chopped

1/4

fresh cilantro

chopped

garlic salt taste

cumin to taste
Combine all the ingredients for the salsa.

Add about 1/4 tsp. of garlic salt and 1/2 tsp. of cumin. I like to combine all the ingredients and then taste.

Cover and place in the fridge to let the flavors combine for a few hours.

Place the freshly scrubbed redskins in a pot and cover with water.

Bring to a rolling boil and let boil for 20-25 minutes or until the potatoes are forkable.

While the potatoes are cooking through, preheat the oven to 350 degrees and spray an 8x8 or 9x9 baking pan with non-stick cooking spray.

Once the potatoes are cooked through remove the pot from the stove and drain the water. Let the potatoes cool a few minutes as they are hot.

Place the cooked potatoes in the baking dish and use a potato masher to gently press each potato down (see photo).

Add salt & pepper is desired.

Add salsa to the top of the potatoes and then the cheddar cheese (see photos).

Bake for 20-25 minutes in the oven.

Serve with salsa, green onions and sour cream.