These days, you can get just about any juice you'd like in a bottle or a carton, ready to pop in the fridge… but isn't there just something really satisfying about waking up in the morning and making yourself some freshly squeezed OJ?
Over the past few years, juicing has taken the health world by storm, with many choosing to follow fad cleanses – whilst these aren't scientifically proven to be good for you, the juice that you drink certainly is. It's just liquid vitamins!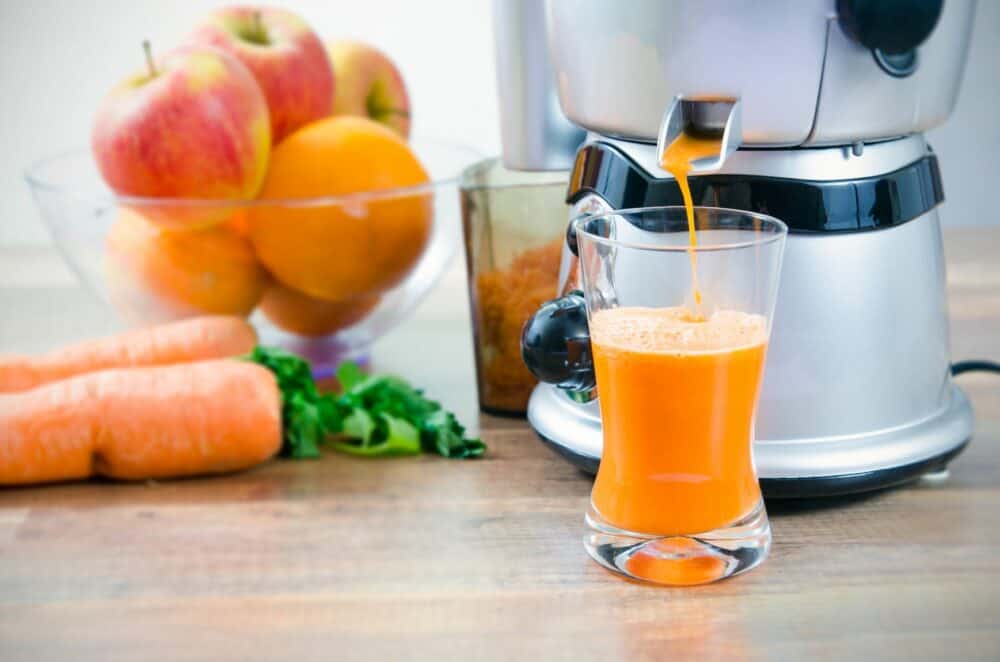 Pin
Choosing a juicer that doesn't cost the Earth, but is affordable without being cheap and poorly functioning, can be difficult… unless you leave it to us! We've picked out five of the best and most budget friendly for you to take a look at.
For more information about the components of a quality juicer, as well as some of the differences between the types of unit available, check out the Buyer's Guide below. It's a consolidation of our research, presented clearly and concisely.
Last but not least, if you have a particular query or concern, you may find the answer you're looking for in our set of Frequently Asked Questions right at the end. Taken from fellow juice fans, it's possible your wonderings will be among them!
Feeling Thirsty? Here's Our Top Pick:
Best Affordable Juicers
Pin
As a trustworthy manufacturer of quality home appliances that don't break the bank, Hamilton Beach was a shoe-in for our top spot in the affordable juicer category. It also happens that their juicer is fantastic, so this was a very easy decision.
Thanks to its extra-large, three inch feeding chute, you can fit entire pieces of fruit or vegetables in the mouth of this juicer, meaning you'll have enough room for an entire apple or orange at once, as well as having to spend less time pre-chopping!
Boasting a powerful 800 watt motor, you'll be able to turn even the densest of your favorite foods into a smooth, delicious juice within a matter of seconds, without losing as much of the good stuff as you normally would with a centrifugal model.
Maintenance is easy – all of the small and tricky parts are simple to remove, as well as being dishwasher safe. Whip 'em out, give them a nice hot blast, and voila! Your juicer is brand new again. Plus, they're made from non-toxic, BPA free materials.
If the affordable price tag worries you, then perhaps you will take comfort in the complete three year warranty on every purchase, which allows you a replacement in the event of an issue, as well as access to their dedicated USA-based support team.
Pros:
Affordable without being low-quality

Powerful 800w motor for fast, efficient juicing

3 inch feeding chute fits whole fruits and veggies at once

Easy to assemble with an extra large pulp bin
Cons:
Not great for leafy greens like kale and spinach
Sale
Hamilton Beach Juicer Machine, Big Mouth Large 3" Feed Chute for Whole Fruits and Vegetables, Easy to Clean, Centrifugal Extractor, BPA Free, 800W Motor, Silver
MAKE FRESH HEALTHY JUICE IN SECONDS: Transform whole fruits and vegetables into nutritious juice in seconds with this fruit and vegetable juicer. The stainless steel micromesh filter strains away pulp and seeds for smooth, nutritious juice every time.
SAVE TIME & EFFORT: The extra-large 3 inch Big Mouth chute on the fruit juicer lets you easily add whole foods without precutting. This reduces prep time to save time and effort in the kitchen.
MAXIMUM JUICE YIELD: Juice everything from dense beets to leafy greens. The powerful 800 watt motor and stainless steel strainer on the juice extractor ensure maximum juice yield, less waste and more flavor. The simple on/off dial is easy to use.
EASY TO CLEAN: Cleaning up after you juice is easy. The juice extractor comes with a convenient strainer cleaning brush, and the juicing cup, pulp bin, juice bowl, lid and pusher are all dishwasher safe.
INCLUDES A 3 YEAR LIMITED WARRANTY: This durable fruit and juice machine is backed by Hamilton Beach, America's #1 juice extractor brand,* with a 3 year limited warranty.
Pin
As a masticating juicer under a hundred dollars, we were skeptical about the Orfeld unit… until we read the customer reviews! This baby is capable of 90% juice yield using its slow speed, 80RPM motor to ensure every inch of the fruit is squeezed.
With two unique speeds, you can distinguish between hard and soft foods in order to reduce waste, prevent over-processing and produce the smoothest juice possible. This also makes things a little faster if you're in a hurry and need to go go go.
Running at less than 60 decibels, the Orfeld is a lot quieter than other juicers on the market, allowing you to whip up juice at any time – day or night – without disturbing the rest of the house or giving yourself a headache.
An integrated Japanese intelligence chip ensures that the juicer automatically stops every twenty minutes in order to cool down and ensure a longer service life. This is very useful, but can also be stressful if you forget or are making a lot of juice!
One button dismantling means you can disassemble and clean all detachable parts, all of which have been made from high quality, food-grade materials, making them completely dishwasher safe. The free cleaning brush is great for getting into corners!
Pros:
Two speeds and reverse function for total juicing control

Slow, steady extraction to achieve 90% juice yield

304 Stainless Steel housing – durable and corrosion resistant

Detachable, easy to clean with dishwasher-safe parts
Cons:
Could do with a strainer to get rid of the tiny bits of pulp that

do

survive the mastication process
Sale
Juicer Machines, ORFELD Juicers for Fruits and Vegetables Easy to Clean, Slow Masticating Juicer w/ Quiet Motor & Brush, Celery Extractor for High Juice Yield & Pure Taste, Reverse Function, Anti-clogging, BPA-Free (Red)
【Higher Juice Yield and Richer Nutrition Juicer Machines for Vegetable and Fruit】7 segment spiral opening up each cell for maximum juice yield. Cold press juicer machines retain high nutrition without creating too much heat and friction. Reserving the vitamins, enzymes, minerals and nutrients. Fruit juice with pulp better retains fiber, which affect blood sugar, stay away from obesity and maintain a healthy body.
【ORFELD Juicer Machines Easy to Clean and Operate & Low Noise】 Less than 60 decibels, allowing you to enjoy a quiet environment when juicing. With the provided cleaning long brush, you can clean the all detachable parts and avoid moldy due to residual pomace, chose this juicer machines vegetable and fruit easy to clean.
【Upgrade Two-speed Program and Reverse Function Juicer Machines Vegetable and Fruit Protable】A slow juice extractor with soft/hard two-speed can meet the juice extraction demands of most families. "SOFT": watermelon, orange, grape, celery, cucumber, etc. "Hard": apple, pear, carrot, beet, ginger, kale, etc. With reverse function, helping you reduce food residues in machines and avoiding stuck.
【Intelligent protection chip and food-grade materials】A slow juicer machine cold pressed equipped with an intelligent protection chip and all detachable parts are made of high-quality food-grade materials (BPA-free). Let you enjoy the deliciousness of fruit and vegetable juice with peace of mind.
【Premium After-sales】Orfeld team will provide the 30-days no-reason return, 12 months warranty and 7*24 hours customer service for Juicer Machines Vegetable and Fruit Cold Pressed. Feel free to contact us if any problem during usage, we will give you the best solution as soon as possible.
No products found.
Don't let the fact that this is the most affordable juicer on our list throw you off – the reviews clearly indicate that this 3 Speed unit from AI is an impressive, budget-friendly unit that offers superior value for money.
Promising to extract up to 26% more juice and 36% more vitamins and minerals than competing products, in just a few seconds you'll have a perfectly extracted cup of juice with very little foaming or pulp present.
Thanks to the three inch wide feeding cavity, you'll be able to completely cut out any prep work and juice entire fruits and vegetables completely whole. Save yourself a whole lot of time and effort but still get plenty of juice!
Offering three speeds for you to choose between – low, medium and high – it is capable of managing soft leafy greens like kale just as successfully as it crushes harder foods like apples and cucumbers. Versatile and inexpensive.
Those who are uncertain about purchasing from a lesser known brand – the three year warranty and lifetime access to customer support should be enough to indicate that AI believes you'll be fully satisfied. If not, you'll come to a quick, easy solution.
Pros:
Quiet operation, with non-slip feet to reduce unwanted vibrations

Large capacity of feeding tube and pulp bucket

360 degree Stainless Steel Precision Filter

3 adjustable speeds
Cons:
Reviews indicate that cleaning can be difficult
No products found.
Pin
Another masticating juicer that's on the reasonable end of the price spectrum, this time from KOIOS, we present an incredibly high-tech, beautiful juicer that looks every bit as good as the delicious drinks it produces.
Made from a strong, durable plastic known as polyethylene (PEI), the juicing tools are ideal for use in high-pressure situations, rotating at 80 RPM to maximize the total amount of juice produced and retain as many nutrients as possible.
Completely BPA free, with no sharp points or blades involves, even your kids can safely use this juicer (though we would still recommend full supervision) – the narrow hoppers mean they can't reach inside to hurt themselves either!
Simple to assemble, the chamber-style mechanism consists of an auger, juice strainer, spinning brush and AC motor – working to delicately compress your fruits and veggies and make the least noise possible. It easily comes apart to clean too!
In comparison to other models, however, the feeding tube is particularly narrow, which means that you need to pre-slice the majority of the fruits and veggies you'll want to use in order to make them fit. That's the only downside, though!
Pros:
Slow, masticating juicer at a budget-friendly price

High juice yield and better retaining of nutrients

BPA-free food grade materials – FDA certified

Three years warranty and lifelong customer service
Cons:
Smaller than average feeding tube – cannot use whole fruits/vegetables
KOIOS Juicer, Slow Masticating Juicer Extractor with Reverse Function, Cold Press Juicer Machine with Quiet Motor, Juice Jug and Brush for High Nutrie (Red-Black)
【Multi-application】: Masticating juicer can extract all kinds of fibrous fruits and vegetables, such as celery, ginger, leafy greens, carrot, apples, oranges, etc. It is a worth investing for a comfortable family to purchase this masticating juicer Extractor.
【Quiet and convenient】: The juicer is less than 60Db when working. And it is easy to assemble, operate, and clean, dishwasher-safe parts make clean up a breeze. You will enjoy a quiet environment and healthy life when making juice, thanks to the perfect design.
【Higher nutritional value】: Compared to Centrifugal juicer, the masticating juicer keeps the minerals, enzymes, vitamins, trace minerals and nutrients from being destroyed. It is the best to keep minimal oxidation, low heat build-up, less foaming and no clogging.
【Higher juicer yield】: Compared to Centrifugal juicers, slow juicer is higher juice yield by the auger squeezing and reverse function. You will get really taste, so delicious, flavorful, rich, and concentrated due to the juice Extractor.
【What you get】: Slow juicer adopts advanced technology and is made of baby food grade BPA-free materials. Our motor and parts are covered by a 3-year warranty. Etl, FDA Certification. And we provide lifelong technical consultation and customer service.
Pin
Last but not least, we have one of Breville's more affordable contributions to the world of juicing, the BJE200XL Juice Fountain Compact. Heavy duty, yet petite, the centered knife blade assembly makes even centrifugal juicing high-yield.
Operating at 14,000 RPM, the powerful 700 watt motor delivers maximum extraction; though it contains very sharp blades, the safety locking arm means the juicer cannot operate without a cover and the handle locked in a vertical position. Kid-proof!
With an extra large, centered three inch feed tube, you can fit whole fruits and veggies in there no problem; surrounded by italian micro mesh, the stainless steel cutting disc extracts up to 30% more juice and 40% more vitamins, on average.
All removable parts are completely dishwasher safe for easy maintenance, and you'll even receive a complimentary custom cleaning brush to make reaching those deep crevices easy. Keep your juicer in tip top condition for longer!
A built in separator means that even the frothiest fruits and veggies can make a perfect glass of juice; this is integrated within the juice pouring jug, which means you don't need to worry about spillages. Just grab a glass and pour – it's that simple!
Pros:
Unique titanium reinforced extraction system with micro mesh filter

Extra wide feeding chute for juicing whole fruits and veggies

Built in pouring jug with integrated froth separator

Shortened prep time, smaller counter footprint
Cons:
Cleanup can be tedious because of the unit's compact design
Breville Juice Fountain Compact Juicer, Silver, BJE200XL, 10" x 10.5" x 16"
The Breville Juice Fountain Compact may be small but it is packed with power; It features a 3 inch wide chute allowing you to juice whole fruits and vegetables and conveniently collects pulp within the footprint of the unit to conserve counter space
UNIQUE EXTRACTION SYSTEM: The compact centrifugal juicers titanium reinforced disc and Italian-made micro mesh filter basket are made out of stainless steel and together are designed for optimum juice and nutrient extraction
SHORT PREP TIME: The Breville juicer machines unique 3 inch extra wide chute feed allows you to juice whole fruits and vegetables without pre-cutting
BUILT-IN FROTH SEPARATOR: Certain fruits or vegetables create froth when juiced; The juice jug features an integrated froth separator to pour more juice, less froth into the glass
COMPACT DESIGN & CONVENIENT STORAGE: The Juice Fountains compact design makes it suitable to store in small spaces and the power cord wraps around under the base making storage neat and simple
Buyer's Guide
Masticating Versus Centrifugal Juicers – What's The Difference?
Being the most commonly available and affordable, you're probably most familiar with centrifugal juicers. These utilize small, round cutting blades which rotate at high speeds to extract juice from fruits and vegetables.
So called for the centrifugal force generated by the constant spinning of the blade, which is able to separate the pulp from the juice, they're very fast at extracting, so fantastic for those in a hurry or with large families.
Unfortunately, the motion can produce a lot of noise, and the process of centrifugal juicing yields less actual juice overall as it also produces a wet pulp. Moving so quickly can also lead to foaming and separation, which makes for lumpy juice!
For those looking for the absolute best, consider a masticating juicer, which effectively uses a chewing motion to produce juice. By slowly, delicately compressing instead of pulverizing, more juice is squeezed, and it is of a higher quality.
Although the quantity and quality of juice gained from the mastication method are greatly improved, this comes at a cost – depending on the brand, you can find yourself paying upwards of 200 dollars or more for a decent unit.
That being said, the process is a lot quieter than that of a centrifugal model, and there's also very little separation and foaming of the juice in general. The higher price tag may also mean there are other included features, e.g making nut milk.
Features to Consider:
Maintenance
Can you completely disassemble the juicer in order to clean it, or do you have to figure out a way to avoid all of the internal components to get in every nook and cranny? Are any removable parts dishwasher friendly, or hot soapy water only?
These are the things you probably didn't think about considering, but definitely should. The best way to make sure your new juicer lasts is to take care of it properly, but that's a lot easier to do if the juicer can be properly dismantled without a fuss.
Noise
As we've already mentioned above, some juicers are a lot… louder than others. If you're particularly sensitive to grinding and whirring, it might be worth committing the extra cash for a quiet masticating juicer.
That being said, the noisier juicers also tend to work more quickly, so it's about making a compromise – do you want to get your juice fast, with some grating sound effects, or a lot more s l o w l y, in a peaceful manner, with more nutrients.
Size
In this context, size definitely matters. Firstly, you need to make sure the unit itself is going to be able to fit in your kitchen and you'll have room out on the counter for it – unless you're more of a put in a cupboard until you need it kind of person.
Not only that, but the width of the juicer's mouth determines how large the fruit and vegetables it can successfully fit are, as well as how quickly you get your juice; its overall capacity for liquids impacts how much juice you can make at once, too.
Speeds
We've already covered the basics – masticating juicers slow, centrifugal juicers fast. However, some models come with multiple speed settings, allowing you to choose between preserving nutrients or arriving at the moment where you drink it quicker.
As a compromise for opting for a centrifugal unit, you could aim to pick one with multiple speeds, which at least affords you the option of running things a little slower than usual, rather than going from zero to one hundred and back again.
Some units even have a reverse function, which allows you to run the blade or augur backwards and successfully remove all of that unwanted pulp. This is especially useful if you prefer a juice that's as thin and chunk-free as possible.
Frequently Asked Questions
Is it okay to drink fresh orange juice every day?
There's nothing wrong with doing so, no, provided it's not a giant glass! That being said, although fresh orange juice has a whole heap of health benefits, it is also high in sugars and citric acid, which in high quantities can be bad for your teeth!
You don't have to give up your daily OJ, though. Just make sure you're drinking a sensible amount and keeping on top of your dental hygiene, so you don't experience any unpleasant side effects, like a cavity.
It could be worth adding a little water to your orange juice, just to make it a little less aggressively acidic, but that's entirely up to you. Dilution won't get rid of any of that sugar, though!
Are masticating or centrifugal juicers better?
Otherwise known as 'cold press' machines, a masticating juicer works slowly to produce high quality juice, extracting a great deal more of the goodness from your fruits and veggies and leaving you with more fluid ounces in general.
They do a better job of juicing, but they can also be a great deal more expensive; centrifugal juicers might not get as much out for you, but they'll certainly do it quickly, so those in a hurry might prefer to opt for a unit with a little speed.
Is it better to juice or blend?
That depends! If you're using a centrifugal juicer, you are automatically missing out on some of the health benefits of the fruits and veggies involved, simply because not all of the juice is extractable from this method. Unless you… eat the wet pulp.
With a masticating blender you're able to yield a lot more juice and most if not all of the nutritional values, simply doing away with the indigestible fiber. This makes it much easier for your body to break down and absorb all of the goodness!
That being said, blending means you get to keep the indigestible fiber, retaining some of the nutrients that juicing gets rid of, even if you're masticating. That doesn't necessarily mean it's better as a concept, though! It's more of a personal choice.