Pumpkin Cake Recipe With Cream Cheese Frosting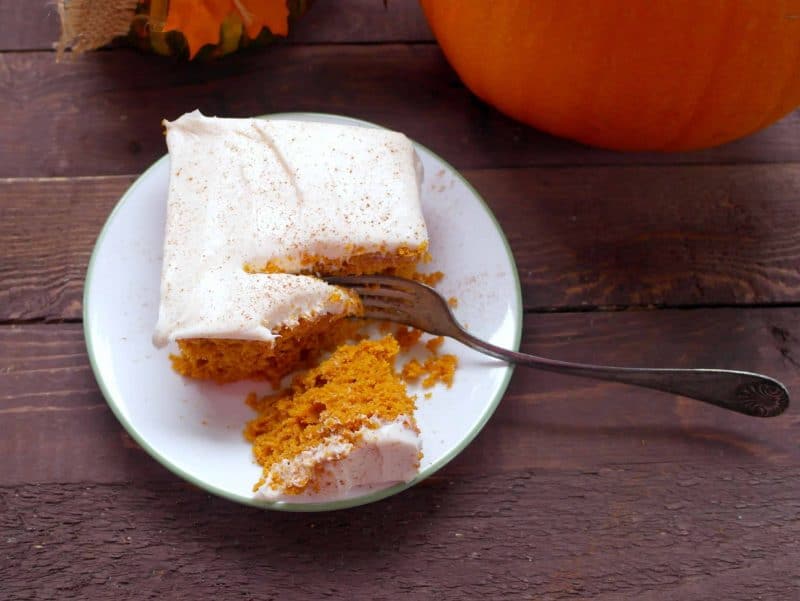 15 oz. can of Pumpkin Puree
1 C Brown Sugar
1 C Sugar
1 C Melted Butter
3 Eggs
2 C Flour
2 tsp Baking Soda
1 tsp Cinnamon
½ tsp Pumpkin Pie Spice
1 tsp Salt
1 8oz Package Cream Cheese, softened
4 Cups Powdered Sugar
½ Stick Butter, softened
Preheat Oven to 350 Degrees.
Combine pumpkin, sugar, butter, eggs. Once mixed, add remaining ingredients.
Bake in greased 9x13 pan for 40 minutes.
While pumpkin sheet cake is baking, blend cream cheese and butter with electric mixer. Slowly add in powdered sugar until well-incorporated.
Allow pumpkin cake to cool some before frosting.
Top with cream cheese frosting and dash of cinnamon.
To freeze I simply bake and frost as directed in one of those throw away metal pans with a lid. After the cake has cooled and been iced cover with the included lid and freeze. If it's going to be longer than a few days I will place a layer of saran wrap or aluminium foil over the cake before attaching the lid. Simply take out of the freezer and it's best to let it come to temperature in the fridge.
Recipe by
Teaspoon Of Goodness
at http://teaspoonofgoodness.com/pumpkin-cake-recipe-with-cream-cheese-frosting/