Chocolate Peanut Butter Balls are a favorite holiday treat in our house, and since this recipe is no bake, it is even better in my opinion. Any special candy treat I can make at home instead of buying is preferred. Being able to do so without slaving over a hot stove makes it even more desirable.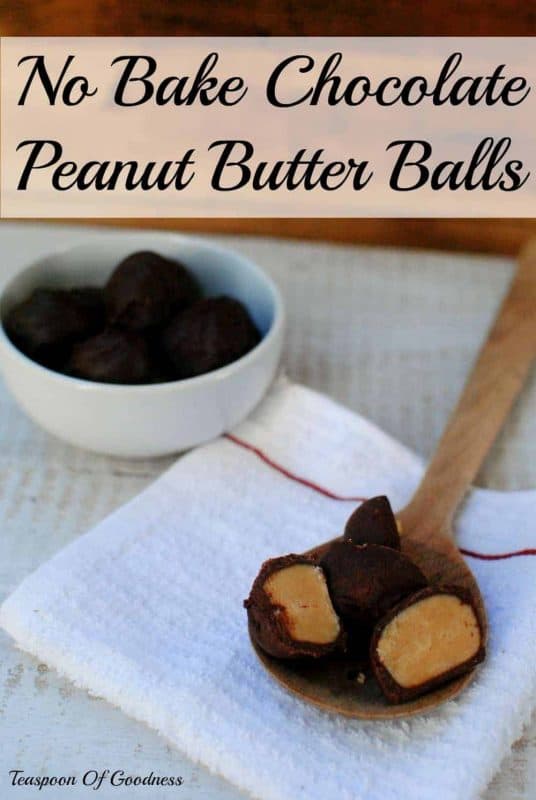 I love eating chocolate peanut butter balls, because they are so reminiscent of those cups that everyone loves. With this recipe, the only cooking you will do is to melt a bit of chocolate for dipping. That means you can safely and easily include your kids in this recipe development easily.
You'll create your peanut butter mixture with your choice of creamy or crunchy peanut butter, powdered sugar and a lot of mixing. Once you get it the right consistency, you'll roll these into balls and put them into the refrigerator or freezer. This makes them so much easier to dip into the chocolate. There are many ways to dip them without making a huge mess. Using a skewer inside the peanut butter ball to dip it into the melted chocolate is easy. You may also prefer to use a couple of forks or even just your hand.  Practice until you find the method that works best for you.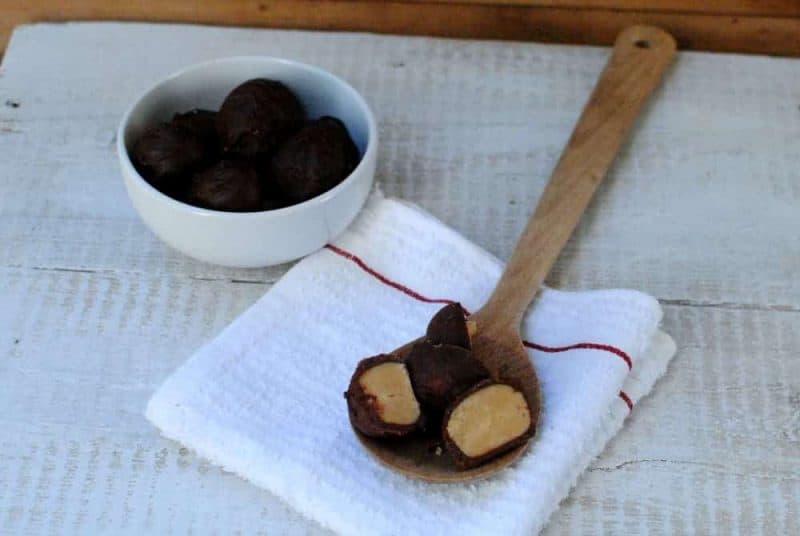 These chocolate peanut butter balls are a delicious no bake treat that are so easy to customize. You can use dark chocolate, semi-sweet, milk or even white chocolate to create a great flavor combination everyone will enjoy.

Chocolate Peanut Butter Balls
Ingredients
2 Cups of Powdered Sugar
1 ½ Cups Creamy Peanut Butter
1 Package of Semi Sweet Morsels
¼ Cup of Butter or Margarine
1 Teaspoon Vanilla Extract (optional)
Microwave safe bowl
Wax Paper
Tooth picks
Spoon
Instructions
Melt butter or margarine in microwave safe bowl
Add to the melted butter the peanut butter and powdered sugar (you can also include a teaspoon of vanilla extract if you like)
Mix well until all ingredients are combined and mixture is smooth. It will be a bit stiff.
Roll tablespoon sized drops into a ball and place on a lined cookie sheet
Freeze or refrigerate until hard (roughly 20 minutes to half an hour)
Melt semi sweet morsels in a microwave safe bowl. Stop and stir every 30-45 seconds
Once chocolate is melted and free of lumps it is ready for coating!
Using a toothpick dunk the chilled peanut butter balls into the chocolate
Use a spoon to make sure they are completely covered in chocolate
Place coated balls back on the lined cookie sheet
Chill until chocolate sets, 20-30 minutes
Serve and enjoy!
Visit Teaspoon Of Goodness's profile on Pinterest.